Our meteorologists are tracking the first winter storm of the year and have slightly increased the expected snow totals for Monday night into Tuesday. The timing of the snow will likely create a messy Tuesday morning commute.
Snow is forecast to develop after the Monday evening commute. The heaviest of the snow looks to happen between midnight and 6 a.m. on Tuesday morning. After that, the snow will taper off.
The biggest impacts on travel will be centered on Tuesday morning's commute.
Light snow and mixed precipitation will linger through Tuesday morning.
A general 4 to 8 inch snowfall is expected statewide. Some places in the hills have a chance of seeing higher totals of more than 8 inches.
A Winter Storm Watch has been issued for Litchfield County. It is the location with the best chance for 8 or more inches of snow.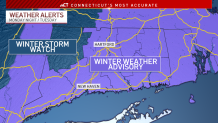 Winter Weather Advisories are issued for the rest of the state.
Weather Stories