A storm brought a wintry mix and some coastal flooding to the state overnight Friday and through Saturday.
Around high tide on Saturday morning, streets like Catherine Street in East Haven were impassable due to flooding.
The tide going out along with a wind shift to the north is quickly improving conditions at the shore.
Inland, a wintry mix of sleet, snow and rain caused slippery roads and several crashes. You can see a full list of crashes here.
Several inches of snow and sleet fell across the state, especially in the higher elevations. Here's a list of the snow and sleet totals so far in the state.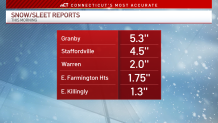 The wintry mix will continue to taper off through midday with mostly cloudy and blustery conditions lingering for the rest of the day.
Any lingering puddles or wet roads could refreeze tonight as temperatures drop. Sunshine and milder temperatures return for Sunday.