Our meteorologists are tracking more mild weather for the middle of the week.
Clouds will turn to sunshine this morning.
Temperatures will remain mild with highs between 53 and 59.
Winds will be gusty at 15 to 30 miles per hour.
Tonight will be fair and mild with lows in the 40s.
Tomorrow you can expect some clouds with highs in the middle 60s.
There's a chance of rain tomorrow evening and early Friday.
Temperatures will cool off Friday night and it will be much colder on Saturday with lows in the 20s.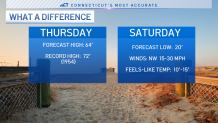 You can get the latest forecast anytime here.