A severe tornado warning was issued for parts of Windham and Tolland counties early Thursday morning.
The warning has since expired.
Rotation was detected in a storm cell moving near Andover around 4 a.m., triggering the tornado warning.
The warning was issued as a line of thunderstorms moved through the state early Thursday morning.
Radar indicated a funnel cloud may have formed over Coventry.
NBC Connecticut meteorologist Bob Maxon tracked the rotating storm as it moved towards Mansfield.
There were reports of some trees down and more than 100 Eversource customers in Coventry were without power as of 5 a.m.
There were more significant power outages in Putnam, where more than half of the town was in the dark.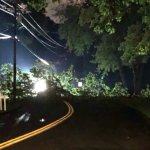 The rain continues Thursday with scattered showers likely. Highs will be in the mid-70s.
The sunny weather returns on Friday and sticks around through the weekend.