After 14 days of below freezing temperatures the streak ended today. For the first time since Christmas the mercury reached 32 degrees. Spending this long below freezing is unusual. At the shoreline at Bridgeport this is the longest sub-32 stretch on record while in the Hartford area this tied for the 8th longest stretch below freezing.
Evening forecast for January09th,2018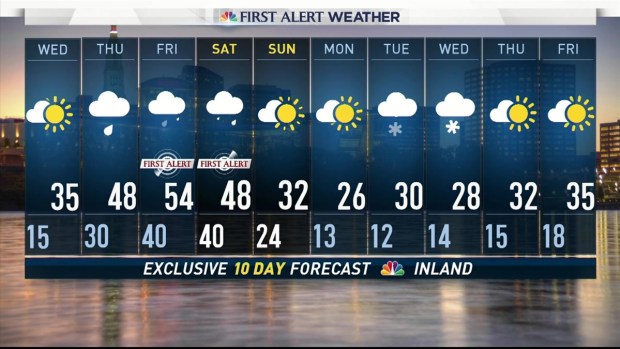 Not surprisingly we've seen a tremendous amount of ice develop on Long Island Sound, lakes, ponds and rivers. The Sound doesn't have as much ice on it as it did during the record 2015 cold snap partially because the first week of the cold snap was lost cooling off the sea surface temperatures (the water temperature at New Haven Harbor was 43F on Christmas, for example) down to freezing. Eventually as the temperature dropped below freezing the salt water began to freeze.
Drone Ranger over the Thimble Islands this morning. Lots and lots of ice! #nbcctpic.twitter.com/Gkhk2Lwcgs

— Ryan Hanrahan (@ryanhanrahan) January 9, 2018
Beautiful shot of the ice in Long Island Sound. The most is between East Haven and Madison this morning. Also note the ice in Buzzards Bay and Nantucket Sound. Beautiful! #nbcctpic.twitter.com/AeNFwBY4co

— Ryan Hanrahan (@ryanhanrahan) January 7, 2018
Going forward with a round of heavy rain and warmer temperatures Friday and Saturday we need to be concerned about ice jam flooding on rivers and flooding of basements given how frozen the ground is.