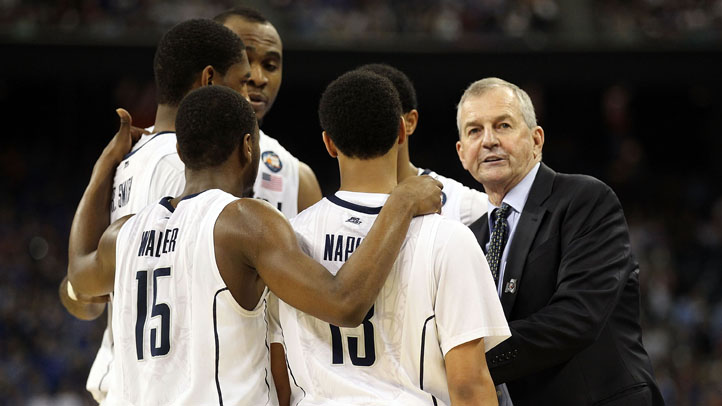 Despite all our hand-wringing in light of Jamal Coombs-McDaniel's recent arrest on marijuana possession charges, UConn's 2011-2012 season isn't doomed to, ahem, go up in smoke (sorry). The positives far outweigh the negatives, it's just that, as we wrote previously, the Huskies have very little margin for error.

Kemba Walker is obviously a huge loss but a young, core group returns: Alex Oriakhi, Shabazz Napier, Jeremy Lamb, hopefully Coombs-McDaniel, off-the-bench freshman contributors Niels Giffey and Tyler Olander, to go along with incoming point guard Ryan Boatright. There's plenty to work out -- Coombs-McDaniel's arrest, Jim Calhoun's future, finding someone who recruited like Andre LaFleur, as well as looming academic issues -- but the situation could be much worse. Just last year, the Huskies had underachieved, failed to make the NCAA Tournament, and lost in the NIT. Their weren't much in the way of expectations heading into 2010-2011 and understandably so.

But UConn, if it can navigate the latest troubles, has the pieces in place to sustain the program for the next few years. And if everything falls into place, the 2012-2013 class could solidify UConn's stature as one of the best teams in the nation .

We mentioned last week that the Huskies were front runners to land 2012 recruit Andre Drummond, thought by many to be the best high school player on the planet. For now, UConn appears to be Drummond's top choice, although we should expect every coach from every big-time program to come calling in the months ahead.

The Huskies have also offered a scholarship to New London's Kris Dunn, a 6-3, junior guard who averaged 26 points per game last season. Via the Norwich Bulletin:

"Playing against some of the top players and actually doing good against them showed the media and coaches I could compete with the best," Dunn said about [playing in a recent AAU] tournament. … "Right now, I'm just living in the moment," Dunn said. "I'm not really worried about college coaches. I'm just focusing on AAU right now."

As it stands, UConn doesn't have commitments from either player for 2012. The Hartford Courant's Mike Anthony wrote out last week that "Losing out in the Drummond sweepstakes would be a crushing blow." And that's probably true. But if the Huskies can sign Drummond and Dunn, we're talking again about a national title. But there are countless scenarios that could play out between these two extremes.
Which makes you wonder if having LaFleur still on UConn's staff would be the difference between landing players like Drummond and Dunn or losing them to conference rivals like, say, Providence.