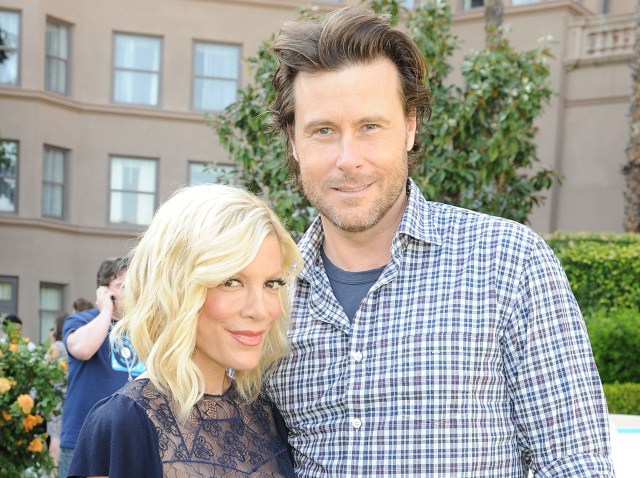 Dean McDermott is doing better since landing in the ICU following a dirt bike accident last week, but the reality star isn't out of the woods yet.
The star of "Tori & Dean: Home Sweet Hollywood" hit his Twitter late Sunday evening, to share with fans and well-wishers the latest on his condition.
VIEW THE PHOTOS: Top 10 Reality Romances Gone Right
"I'm healing, slowly," he wrote. "Ill be doing rehab for a while I messed a few things up when I crashed."
Dean previously revealed on the social networking site that he wasn't entirely sure how the accident occurred, and noted he had suffered a collapsed lung and bruising on his right side. He also received several stitches on his bottom.
VIEW THE PHOTOS: Hottest Hollywood Dads!
On Sunday, however, he let fans know he received an inspirational message from his son, Liam.
"Feeling better today. Tori asked Liam who his best friend was and he said.'Dean is. He is my brother'. Made my cry," Dean noted.
Copyright 2010 by NBC Universal, Inc. All rights reserved.
This material may not be published, broadcast, rewritten or redistributed.
VIEW THE PHOTOS: '90210' Alum Tori Spelling
Related Content from AccessHollywood.com:
VIEW THE PHOTOS: Keepin' It Real With TV's Hottest Reality Stars!
PLAY IT NOW: Dean McDermott On Renewing His Vows: 'It Was Fantastic'
PLAY IT NOW: Dish Of Salt: Tori & Dean Promise More Family Life On 'Home Sweet Hollywood'
More from Access: [ Dean McDermott Reality TV TV ]
Copyright NBCAH - Access Hollywood