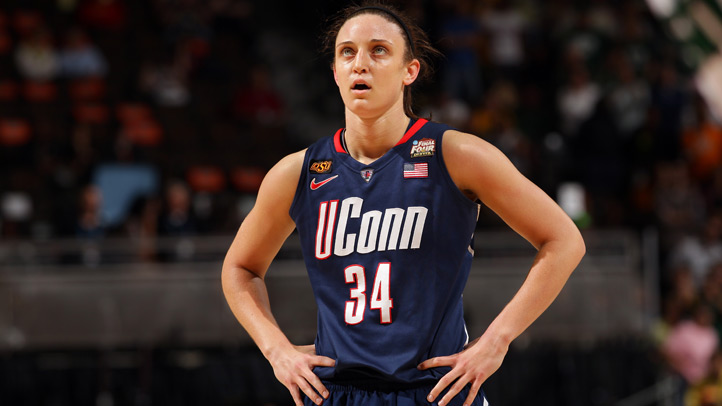 For 20 minutes, it looked like fourth-ranked Duke had cleared the mental hurdle that had plagued them in their previous matchups with Geno Auriemma's Huskies. The Blue Devils headed to the locker room trailing 32-30, but after the break it was back to the future for both teams; UConn, led by senior Kelly Faris, who took over the game, outscored Duke 47-19 in the second half and the last undefeated team in the country once again left Gampel on the wrong end of a blowout loss.

Faris had 18 points, 12 rebounds, 6 assists and 2 steals and she was instrumental in getting the Huskies on track Monday after a slow start.

"There have been some legends wearing that Connecticut uniform," Auriemma said after the game. "I don't know if anyone represented that uniform, herself, her family the way that kid did tonight. I know there are a lot of players out there that are really good. I know there are a lot of All-Americans who have played here. That was one for the ages right there."

But it took a halftime speech from Auriemma to get the team going. The first half was marred by sloppy play and turnovers, and that had everything to do with the score.

"Tonight the frustration came out of me in the locker room," Auriemma admitted. "Kelly turned all that frustration into concentration and aggressiveness that helped us find a little bit of what was missing. ... Now the key is holding on to it and adding to it."

The last time an undefeated Blue Devils team came to Gampel, the outcome looked a lot like what we saw Monday night. In the 2010-11 season, the then-20-0 Blue Devils were destroyed, 87-51.

"This is exactly how we've been playing all year," Duke coach Joanne McCallie said. "It was consistent and more of the same. We've played some great 20 minute ball but we've been pretty much non-existent for 40 minute ball. Give credit to Connecticut. They really played really well in the second half, Kelly Faris in particular. There were some great lessons to learn from."

When asked to explain what happened over the final 20 minutes, McCallie offered this: "We were soft a little bit in the sense that we missed some shots. We didn't have any rebounding on the floor. Forty-four to 25 (rebounding disadvantage) will get you beat real quick. We had some missed shots and a classic case of not getting back on defense, their (UConn) transition got them going. Initially in the second half, we slept walked through that episode and they made layups. When that happens anything is possible."

The Huskies next game is this Saturday when they travel to Cincinnati to face the Bearcats.