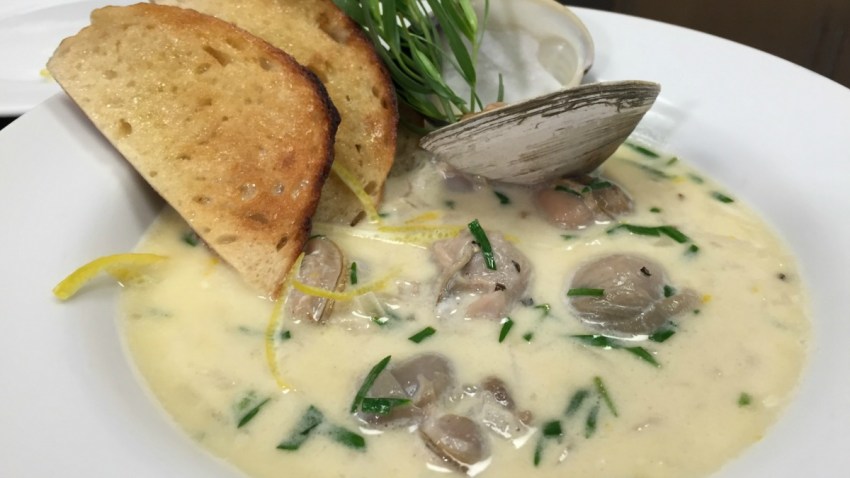 Ingredients:
20 Littleneck Clams
3/4 Cup Water
2 Tbsp. Butter
1/4 Cup Very Finely Diced Onion
1/2 Cup Heavy Cream
2 tsp. Lemon Zest
2 tsp. Fresh Tarragon-chopped
To Taste Black Pepper
Preparation
Place the clams and water in a pot and cook covered on high heat until the clams just open. If some open before the others, remove them so as not to overcook them. Reserve four clams in their shell for garnish and remove the clam meat from the others for the stew. Place the resulting broth in the pot in a tall, narrow glass or measuring cup and allow the sand to settle to the bottom.

In a saucepan, heat on medium heat. Add the butter and onion. Cook stirring for about 1 minute, but do not brown. Add the clam broth, leaving any grit at the bottom of the cup. Bring to a full boil and let reduce by about 25%. Add the heavy cream, bring to a gentle boil. Finish by adding the clams that have been removed from the shell and add the lemon zest and tarragon. Heat until a simmering and season to taste with black pepper. Serve in a soup plate and garnish with the clam still in the shell and some crusty bread. Enjoy!

Lincoln Culinary Institute's Website: www.lincolnculinary.edu