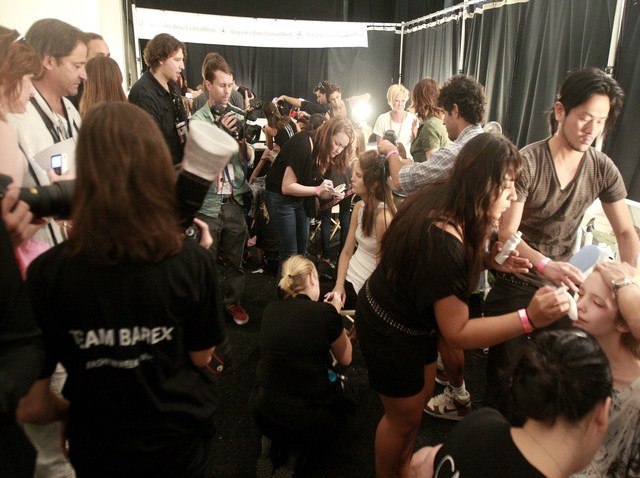 WHERE THE WILD THINGS ARE: UK brand, Illamasqua (pronounced "ill-yah-mahs-qua"), is already the wonder drug of choice by the YouTube Beauty blogger generation. So when we set out to try these brighter than nature-intended colors, we were feeling kind of timid and out of our element left knee-deep in chameleon pigments, ultra-violet blush and matte red lipsticks. Running the risk of looking like an Andy Warhol knock-off, we blended, blotted, and brushed Illamasqua's intense powder palettes and stick glosses, and were shocked to find seductive and surreal color combinations that not only flattered but made us feel more glam than ever before. We dare you to try their Powder Blusher in Sin, a vibrant blue-backed plum and the best out of the ordinary contouring blush we've ever tried. Order online, exclusively at Sephora.

SHINE ON, SHINE ONE: Barex Italiana was spotted backstage at Max Azria and ADAM, styling the up-do's and luscious spirals with their super luxe hair care collection. We might not have runway chic strands ourselves, but we do like to dabble in a hair indulgence once and a while, and Barex is most definitely worth the splurge. Our favorite would be the Barex Gloss Spray, where the water-intense formula is actually structured to prevent your hair color from oxidizing and boosts your coiffe's natural light (as well as being, literally light, as in weightless) reflecting shine.

CLEAR AND SUNNY: We've raved about Dr. Denese and her triple defense, sunscreen, day cream, tinted matte moisturizer in our last Beauty Without Borders piece, but as our tans fade we find ourselves turning to our favorite Hungarian scholar in a state of panic. Lucky for us, she threw another bone to us with her Glow Younger Self-Tanner. A clear (yes, CLEAR) gel self-tanner that hydrates and builds a progressively natural tan (very quickly, might we add) without harsh smells and with bonus anti-aging technology. Not only will you skin be glowing, you'll wind up with the smoothest, softest bod in town as a delightful side effect. Not so bad Dr. Denese, we'll be keeping you around.