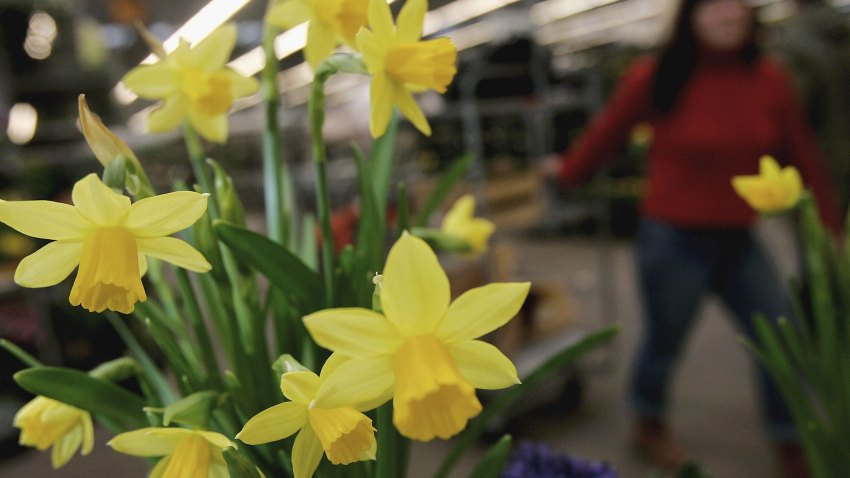 Flowers are a pretty typical Valentine's Day gift. Something a little less typical would be giving them to your Valentine a month late.
Which is exactly what the American Cancer Society is suggesting you do - be belated. Here's why.
Starting Jan. 26, they're launching the 2009 Annual Daffodil Days Campaign. Delivery coincides with the start of spring -- the week of March 16. The American Cancer Society expects to raise $750,000 in Connecticut to support the fight against cancer.
---
Here are the options this year:
For $10, donors receive a bouquet of 10 fresh daffodil blossoms.
Three mini-daffodil bulbs in a soil-filled pot are available for a $15 donation.
A bouquet of 10 daffodils and a Boyd's collectible stuffed bear for a $25 donation.
Gift of Hope: For $25, daffodils are delivered to a cancer patient undergoing treatment.
---
According to the American Cancer Society, here's where the money goes:
"Dollars raised through Daffodil Days enable the Society to offer free programs and services that help people fight cancer with courage and optimism, while providing physical and emotional support and financial information to ease the cancer experience."
Examples:
Transportation assistance to and from treatment
A one-on-one support program that matches trained breast cancer survivors with those newly diagnosed, to provide emotional support and guidance
A series of online educational classes for people with cancer and their loved ones
A free and confidential service that helps cancer patients locate a cancer clinical trial based on their individual situation
A free program dedicated to teaching women techniques to help restore their appearance and self-image during cancer treatments
Some money also goes into cancer research, education, and advocacy.
For more information about Daffodil Days, to request flowers, or to get involved with the program, click here.