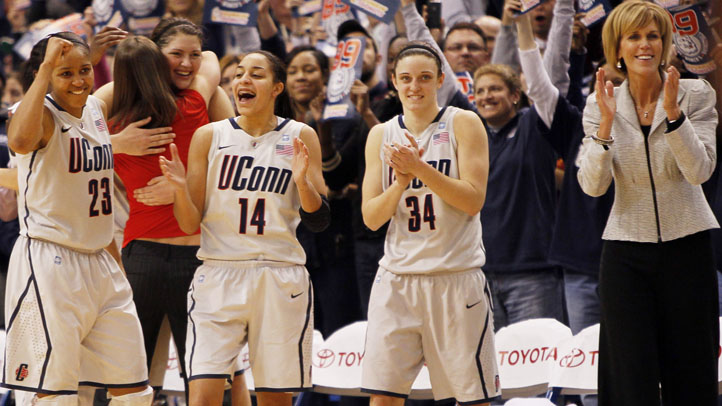 The last time Maya Moore scored fewer than 10 points, UConn fell to Stanford. On Sunday, in the quarterfinals of the Big East Tournament, Moore was held to a season-low six points, but the top-ranked Huskies cruised to a 59-43 victory over No. 17 Georgetown on the back of freshman center Stefanie Dolson's 24-point performance.

"That's why [the Hoyas] press as much as they do, because they don't have an answer for Stefanie inside," Huskies head coach Geno Auriemma told ESPN after the game. "And I just don't think we got her the ball enough … because we certainly could have gotten it to her more. She keeps getting better and better each day and I'm hoping she has a couple more in her."

UConn continued its Big East domination -- the victory over Georgetown was their 67th consecutive conference win -- but the biggest obstacle between another tournament championship could be this team's lack of depth. Auriemma spoke about it last week, and Sunday six players played all but two minutes.

"We're asking them to play 30 minutes every night and be really good," Auriemma told the New York Times on Feb. 28. "That's asking a lot with no margin for error. Ninety percent of the time, it's not an issue. Ten percent of the time, it is because you can't give your players a breather when they're playing poorly. The fatigue and wear and tear mentally is almost worse than physically."

It certainly wasn't an issue against the Hoyas, but the Huskies also had five days off between games. After Sunday's 2 p.m. start, UConn faces Rutgers on Monday at 6 p.m, in the Big East semifinals. And if they get past the Scarlet Knights, the tourney championship will be on Tuesday. Three games in three days against quality opponents is a lot to ask for what amounts to a six- or seven-person rotation.

If the matchup against Georgetown was any indication, the Huskies should be fine. They jumped out to an early lead, even with Moore managing just two first-half points, and led 37-17 at the break. The Hoyas started the final half on an 11-4 run, with UConn looking ragged at times, but ultimately, their defense -- and the steady interior play of Dolson -- was the difference.

Playing with a lead mitigates some of the concerns about a short bench. A stifling defense doesn't hurt, either. At some point, though, you just wonder if the fatigue of an entire season, coupled with back-to-back-to-back games might take their toll. And Auriemma is well aware of this.

"Defensively, they're as good as anybody, Auriemma said regarding Rutgers, UConn's next opponent. "…[T]hey control the tempo of the game … and we're going to have to make sure we stay out of foul trouble."
Having Dolson dominate the paint -- and Moore play more like her 24-points-a-game self -- won't hurt, either.