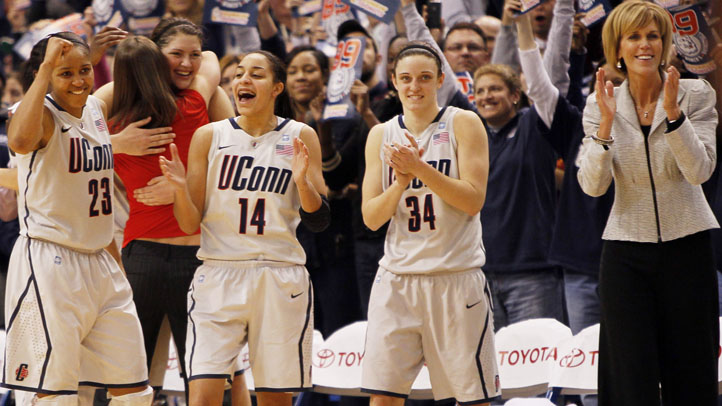 The last time the UConn women's team faced Duke it was late January and they won by 36 points. That night the Huskies went on a 13-0 run to start, Duke began 0-for-12 from the floor, and save the 35 minutes of basketball that remained, the game was over. The teams will meet again Tuesday in the NCAA Tournament, this time for the right to go to the Final Four.

The Huskies are coming off one of their toughest wins of the season, a 68-63 victory over a tenacious Georgetown team that only succumbed after Lorin Dixon kick-started a late Huskies rally. Duke made it to the Elite 8 by staving off two DePaul rallies to win, 70-63.

And now, the rematch. "That game, we, I can't even explain what happened in the first half," Karima Christmas said of the first UConn meeting shortly after dropping 23 points on DePaul. "It just kind of put us in a place where we didn't want to be and didn't expect to be."

Duke coach Joanne P. McCallie added "I don't really have anything else to say about that … We got thumped. We moved on and then beat the next team by 24. From there, we got better and better and better."

It is ironic that the Duke women's team is being subjected to the same pregame treatment many Duke men's team's opponents face. One way to quell the doubters: win. This little fact isn't lost on the Blue Devils.

"I think any team that you have lost to, you want to play again," Duke senior guard Jasmine Thomas said. "It's very motivational to get another chance to play [Connecticut], and you just go in with the mindset that you get a chance to continue your season."

"We approach each game and focus mostly on what we are doing and what we can do better," freshman Haley Peters said. "I do not think we would be here if we didn't think we could win."

To recap: if the media would let them, Duke would like to put the 36-point loss behind them.

As for the Huskies, they have their own concerns, chief among them: how to avoid another slow start like they had against Georgetown, and more than that, how to get Maya Moore involved in the offense early. Coach Geno Auriemma admitted as much Monday, when he pointed out that his 2009 and 2010 national championship squads had fewer holes than his current team.

"We're vulnerable because you have to be able to do a lot of things well in the NCAA tournament to win a national championship," Auriemma explained. "The teams that are playing this weekend, and next weekend if you're fortunate enough to get to next weekend, have the ability to take you out of some of the things you do. And when they do, you have to have something to come back at them with.

"So that over a period of 40 minutes, everything they try to take away, there's something else that they can't. The last two years there was nothing anybody could do to keep us from winning."

Against the Hoyas, that meant going with a smaller lineup, basically swapping senior reserve guard Lorin Dixon for freshman center Stefanie Dolson, who scored 24 points in the previous Georgetown meeting. To Dolson's credit, she was unaffected by her second-half stint on the bench. "Lorin Dixon went in and it was a complete game-changer," Dolson said. "To me, it didn't matter. Whatever worked, worked…They did a great job, so for me not to be in the game doesn't mean that I still wasn't a part of things."

Dolson will no doubt be in the lineup against Duke and the hope is that she dominates the boards and gives the Huskies an intimidating inside presence. But if the Blue Devils are able to contain her like the Hoyas did, Auriemma could again look to Dixon, who has the full confidence of her teammates.
"Lorin brings so much energy, just her personality, her style of play," Moore said. "I think a perfect definition of what she can do was [against Georgetown], coming in bringing the defensive energy and getting us going. When she is playing confident with the urgency we have as seniors, you can't really replace that."

The fun begins Tuesday at 7 p.m. on ESPN.