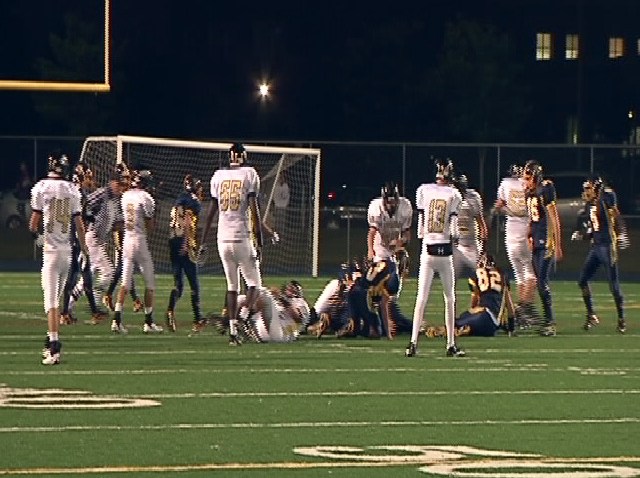 High school officials in East Haven have decided to cut the season-long suspension of four football players and two cheerleaders to two games after a weekend drinking debacle, the New Haven Register reports.
The reversal came one day after dozens of people, including parents, players and East Haven coach Greg Volpe, made their voices heard at a Board of Education meeting on Tuesday night.
"This is the best thing that could have happened," senior offensive and defensive tackle Steve Kasperzyk, 17, one of the four suspended players told the Register. "I really needed this year, trying to get into college and everything. ... I don't know what I would do without football."
The suspensions were first handed down after police busted a party on Sept. 11 where police said alcohol was available to minors.
The bottom line, said Superintendent of Schools Anthony Serio Jr., is that administrators had serious questions on the fairness of the previous policy, which required anyone caught intoxicated or in possession of alcohol or drugs to be suspended for the season.
"I think that's what we were struggling with," Serio said to the Register. "I think what it all boiled down to was" that a few kids "tell us what happened" and others "don't tell us anything" and it's the ones who are honest and didn't run — and said they did nothing wrong — who got penalized.
"We kind of felt that the rule was not current" because of recent changes in state law that define anyone under age 18 as a minor, and don't allow release of their names, even to their school, if they're arrested, Serio said.
There were many questions as to whether the underage students at the party actually drank alcohol.
"Usually, if a kid violated the rule, he was fall-down drunk or he got arrested or something," Serio told the Register. "This was a little bit gray."
Serio said he spoke with Police Chief Leonard Gallo and Gallo agreed the penalty needed to be revised and student athletes would be suspended for two games or 20 percent of the total number of games for a first offense. They also would be required to go to counseling with a school social worker.
For a second offense, they would be suspended for the entire season of the sport.
For a third offense, they would be suspended from all sports for the school year.