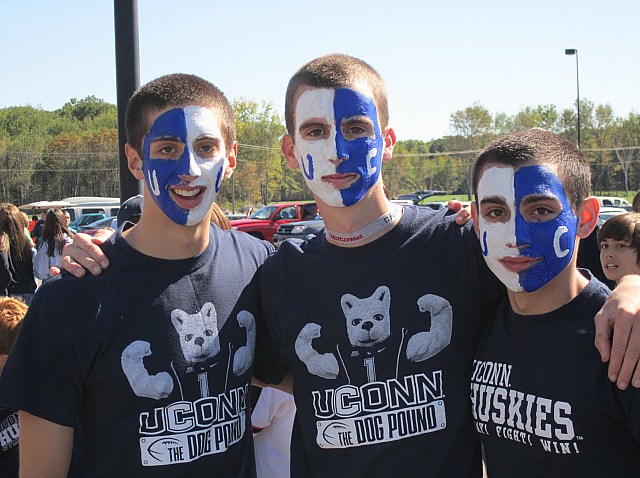 Homecoming at UConn is no small affair. Starting today, the weekend will be packed with Husky spirit, both on and off the field.
Here's what you need to know to make the best of homecoming weekend:
Friday, Oct. 11
Tailgate: Homecoming tailgate starts at 1 p.m. on Friday, featuring a barbecue, school spirit photos and even a football toss. This annual pre-game festivity, held on Fairfield Way, is free and open to everyone.
4 Friday Night Home Games:
Field Hockey: UConn vs. Louisville Cardinals at 6 p.m. at Sherman Family Complex.
Ice Hockey: UConn vs. Colgate University, 7 p.m. at Freitas Ice Forum.
Women's Soccer: UConn vs. Temple Owls, 7 p.m. at Morrone Stadium. Tickets to the women's soccer game are available online here.

Women's Volleyball: UConn vs. Rutgers, 7 p.m. at Gampel Pavilion.
Husky Homecoming March: Starting at 5:30 p.m. at the Family Sports Complex on campus, SUBOG is hosting a celebration of the four home games by giving away free t-shirts, stadium cushions, and food. Even admission is free!
Saturday, Oct. 12
'Fan Of the Game' Competition: Which student displays their school spirit most creatively? Winners will get front row seats in the student section for the game. The event is open to the entire campus, and winners are chosen before the start of the game. Visit the Student Union Board of Governors (SUBOG) page for more details on every event.
Football: UConn vs. USF Bulls, 12 p.m. at Rentschler Field in East Hartford. Click here for game tickets and here for parking information. For directions to Rentschler Field, click here.
Ice Hockey Double-Header Part Two: Facing Colgate University a second time at 2 p.m.
Click here to see a Storrs campus map.
Click here to find a place to park.
Are you going? Share your photos with us at shareit@nbcconnecticut.com.