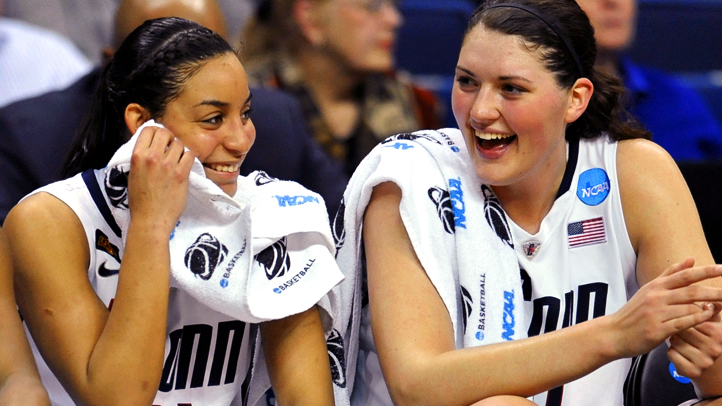 We've written about it previously, but the only program at UConn immune to the conference reshuffling is the women's basketball team. Coach Geno Auriemma has built this thing from the ground up, spanning more than two decades, and now it's a perpetual motion machine. He annually lands the nation's best college players, coaches them up, and the Huskies have countless Final Four appearances and seven national titles to show for it.

It helps (at least in the sense of sustained dominance) that the women's sport isn't about money -- it's truly about basketball -- which helps stave of the commercialism that now pervades football and men's basketball. Of course, such a development benefits the purists; college athletics is a bottom-line business, which brings us back to all the conference-realignment talk.

But while that sorts itself out, the Huskies returned to the court after time off for exams, and it's like they never missed a beat, crushing Oakland, 97-25.

Bria Hartley and Breanna Stewart led the way with 21 points apiece, Brianna Banks added 18 and Kaleena Mosdqueda-Lewis went for 14. The Huskies held Oakland to 15-percent shooting from the field, out-rebounded them 56-26, and led 61-21 at the break before cruising in the final 20 minutes.

"We got a lot done in the first half," Auriemma said. "I don't know if we got anything done in the second half. It was 20 minutes of pretty good basketball and the rest was not exactly what we want to see."

Still, it was good to give Hartley, who was bothered by an ankle injury earlier this season, some much-needed work.

"That's why we tried to get her as many minutes as we could," Auriemma said. "She just needs time out on the floor and it was good that we had a bunch of days in a row that she could actually practice. I think it has done wonders for her. She looked like her old self out there. As we've said, little-by-little, she wanted to get back to it and tonight was a really big step in that direction."

Hartley added: "Being out for five weeks, my stamina wasn't exactly where I'm used to being and I think there were times on the court where I was getting tired. But, these 13 days off helped."

The Huskies face Hartford Saturday at the XL Center.