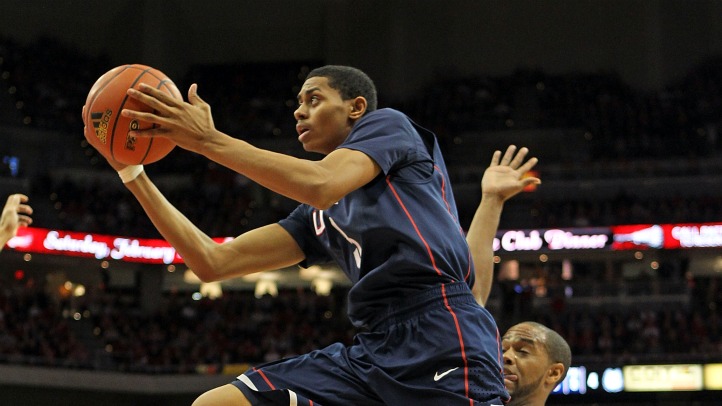 Not only are the Huskies traversing the continent to play a basketball game, but they also will face San Diego State in their home state, some 97 miles from campus. In addition to the much-talked-about geographical concerns there's also this, courtesy of TheDay.com:
UConn's NCAA tournament record against opponents playing in-state is lousy. The Huskies are 0-for-7 in those neutral-site situations.

Two prime examples: They lost to North Carolina, 75-64, in a 1998 Elite Eight game in Greensboro, N.C., and dropped an 82-78 decision to Texas in the 2003 Sweet 16 in San Antonio. The Huskies were underdogs in both cases.
Also not helping: the No. 2 Aztecs sold out every home game this season, and there's no reason to think that their rabid fans won't make the journey to Anaheim for Thursday's Sweet 16 get-together.

"We are going to have a lot of fans here," SDSU coach Steve Fisher said. "How much that will help us win games, I don't know. It did at home. At our home games when we got on a run our crowd kept us on that run. When we struggled a little bit, they allowed us to get back on the road quicker."

For coach Jim Calhoun "The biggest advantage is who you bring with you … I don't know if it hurts you. I always think it helps the other team, though, if they get down a little bit."

The Honda Center holds 17,608. UConn sold roughly 1,000 tickets for the game, which means that, at the very least, 6 percent of the crowd will be pro-Huskies. So there's that.
Whatever, Kemba Walker seems unconcerned about anything going on beyond the court.

"I definitely think they'll have a lot of fans," said Walker. "I don't know about an advantage. I'm pretty sure we will have a nice little fan base because our fans travel very well. We're just going to play basketball."

And in the end, that's what it comes down to: playing basketball. The Aztecs will focus most of their energy on slowing Walker, but as we have seen the last seven games, the Huskies have other emerging weapons.
San Diego State plays mostly man-to-man defense, which means that UConn won't be forced to consistently convert perimeter shots. It also means that the Aztecs will rotate several players to defend Walker in the hopes of wearing him down as the game goes on. Whether the strategy is zone or man, Walker is going to need help. This isn't DePaul; San Diego St. is one of the most athletic teams in the country and they runaway with a lead in a hurry.

One way to slow down a high-powered offense: defense. Calhoun spoke glowingly of his squad in that regard after the Cincinnati game. They will need an even better effort Thursday. Which means -- you guessed it -- contributions from the young guys. (It's a recurring theme, I know, but it really is the difference in the Huskies we saw muddle their way through February and the team currently on a seven-game winning streak.)

Forward Roscoe Smith might have been the most highly recruited freshman entering the season, but it's clear that right now Jeremy Lamb is the second-most important player to this team.

When Calhoun was asked about the possibility of Thursday's game being fast paced, he offered this: "Well the best thing with us is getting up and down the floor. When you get Jeremy Lamb and some of our other kids, obviously, Kemba, we are very good in the open court…"

Then there's this, from the Hartford Courant:
[Lamb] already has a legacy of two-overtime baskets against Syracuse and a game-deciding layup against Louisville to win the Big East Tournament. Game after game, he can be found shooting alone after UConn women's games at Gampel Pavilion.
And Calhoun is thankful, if not well aware of what this early success could mean for Lamb going forward. "[Jeremy is a] great worker. Shoots three hours at night on his own. The weight room helped him. And God-gifted ability, 7-foot reach. Playing beside Kemba is a good thing, too. Next year, if things go the way things probably will and Kemba is in the NBA, Jeremy will have a more difficult time. Everybody loads up on Kemba."

Those are problems for another day. Right now, the focus is on San Diego State. And the Huskies will need Walker, Lamb and everybody else at their best if they're going to pull this off.