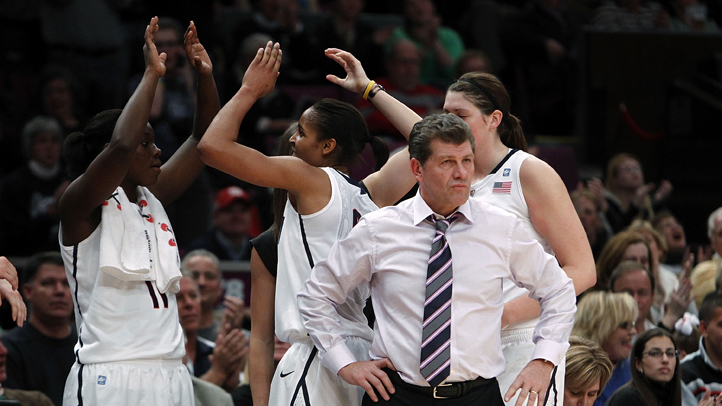 Just like Kemba Walker, UConn's Maya Moore continues to rack up the national honors. On Wednesday, the U.S. Basketball Writers Association named Moore its National Player of the Year.

From the USBWA press release:
Moore has led the Huskies to a fourth straight Big East title and a trip to the Final Four, averaging 22.5 points, 8.2 rebounds and 4.0 assists per game. She becomes just the third two-time USBWA National Player of the Year (Tennessee's Candace Parker and Chamique Holdsclaw) and only the second player to earn USBWA All-America honors four times (Oklahoma's Courtney Paris). Like Paris, she was also the USBWA National Freshman of the Year (2008) in addition to being the National Player of the Year two seasons ago. Moore's selection as the player of the year marks the sixth time and the third straight season a Connecticut player has earned the honor.
Moore had her best game of the NCAA Tournament earlier this week when she scored 28 points (including her 3,000th career point -- only seven other players have accomplished the feat in NCAA history) against a Duke team that was over-matched from the start.

Coach Geno Auriemma joked after the game that, "You know, the best thing Maya does is not listen to me. That's the best thing I can say about her." And Moore, forever modest despite her prodigious talents said simply, "[Auriemma] just wants me to be aggressive and not to settle," she explained when asked about her coach's comments. "Once I started to scratch the boards more, getting some put-backs and some layups, the jump shots started to fall."

In three tournament games before facing Duke, Moore averaged 17 points on just 17-of-46 shooting (39 percent). Now she seems to have rediscovered her stroke. This doesn't bode well for the Huskies' next opponent, Notre Dame. The Fighting Irish advanced to the Final Four by upsetting Tennessee, but failed to beat the Huskies in any of their three meetings during the season.

As always, Auriemma was good for a quote during a Wednesday conference call.

"I think this is about me and [Notre Dame head coach] Muffet [McGraw]," he said. "What she's going to wear, what I'm going to wear, whether or not she can defend me in the post, and her high heels, whether or not she's going to stab me in the eye with one of them."

"This is a personal vendetta between the two of us. We're both from Philly, both products of the same area. This is a grudge match that goes way, way back between me and her."

It's not quite the Calipari-Calhoun rivalry. Either way, McGraw says that her team isn't "going to dwell on the fact that we've lost to [UConn] three times this year. Although, she also concedes that she won't be afraid to point out that Texas A&M defeated Baylor in the Elite Eight after -- you guessed it -- losing to Bears three times during the year.

Following the Duke victory, Moore admitted that it's tough to play an opponent so many times. Auriemma echoed those sentiments during the conference call. "You don't like it, but you can't avoid it. It's unfortunate that we're going at it for the fourth time. But I can see why, with the strength of our league."