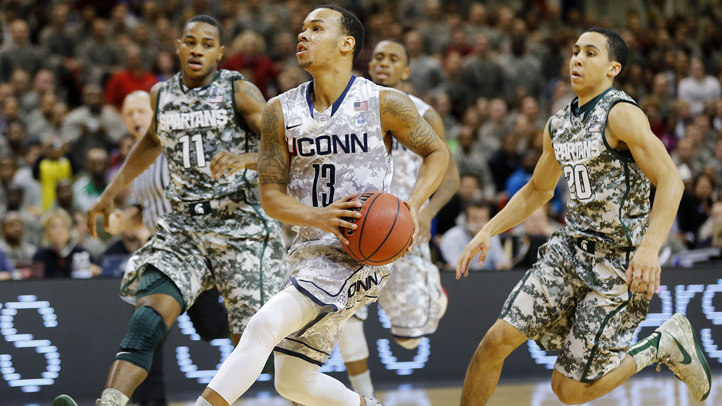 Shabazz Napier is the heart and soul of the 2012-13 Huskies team but the junior guard has been battling a shoulder injury suffered during last week's loss to Louisville. He played in UConn's loss to Pittsburgh over the weekend but it was clear that he wasn't 100 percent.

"Shabazz's shoulder is hurt," backcourt mate Ryan Boatright said at the time. "As anyone could tell, he wasn't himself. We need to him get healthy as soon as possible."

Napier practiced for the first time Wednesday, though as a precaution he didn't participate in contact drills.

The Huskies don't practice Thursday but the plan is to let Napier go full speed on Friday and Saturday and if everything checks out, he'll be on the court when UConn hosts Rutgers Sunday at 2 p.m.

If Napier gets the green light, he'll be quick healer. Following last Saturday's loss to the Panthers, it sounded as if he might be sidelined a while.

"I couldn't dribble with my left hand," he admitted at the time. "I tried to get to the middle and drove with my left at the end of half time but it hit my arm resulting in a turnover. I'm usually able to fix that contact and get a shot up but I wasn't able to dribble with my left hand."

The Huskies are looking to get back in the win column and level in the Big East. They've dropped two in a row but this season still has to be considered a success at this point. UConn is 12-5 despite losing their Hall of Fame coach to retirement in September, and being banned from the NCAA Tournament in March.