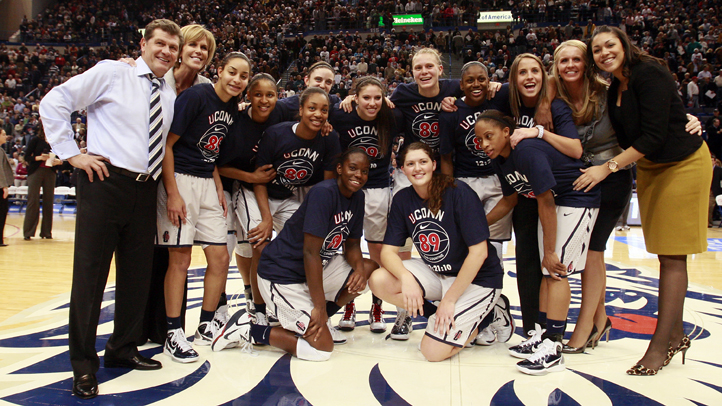 For the past few summers, after we have analyzed what worked and what didn't during the regular season, the talk eventually turns to whether UConn men's basketball coach Jim Calhoun would finally retire. It's sort of turned into a typical Brett Favre off-season but without the national media attention or the scorn for the guy who can't seem to make up his mind.

Since the Huskies won the national championship earlier this month Calhoun has twice stated on radio appearances that he plans to return, but later said that he has yet to make up his mind.

Calhoun just completed his 25th year at UConn, and his 39th as a college coach (he was at Northeastern before he came to Storrs). So it wouldn't be completely surprising if he retired, especially in light of the recent NCAA sanctions, not to mention the news that he might have to fork over more than $185,000 in bonuses because of the men's team's flailing academic performance.

But what about the other, more successful basketball coach at UConn? Geno Auriemma arrived in Storrs a year before Calhoun, and has won seven national titles in that time. He's only 57 -- 11 years younger than Calhoun -- but he almost left last year to coach an unnamed men's college team.

You'd be hard-pressed to find something Auriemma hasn't accomplished in the women's game. And it's in such situations that people often look for new challenges. While I have no idea what Auriemma will do, or if he'd still entertain other offers, he won't coach forever. So who is most likely to replace him with that fateful day arrives?

On the men's side, first-year assistant Kevin Ollie has been mentioned. For the women, there's a chance the hire will come outside the university, but not that far down the road.

Back in March, after the Huskies had won the Big East Tournament and were preparing for their first-round NCAA game against Hartford, the Norwich Bulletin's Joe Perez wrote about Hartford coach Jennifer Rizzotti, the former UConn star who helped Auriemma win his first national title.

In terms of what Rizzotti has accomplished, Perez wrote: "In 12 years with the Hawks, Rizzotti (253-151) reached the NCAA tournament six times (two wins) and won a league-record five America East tournament championships, including this season after the team began 1-9. The Hawks have also won four regular season titles with her at the helm."

Perez continues: "When you consider what Rizzotti did with a moribund Hawks program, she'll undoubtedly be linked to openings at Virginia — where Auriemma got his first college job — and LSU. Rizzotti is forever grateful of the support Hartford has given her and her program. That's exactly why she won't simply pack up and go at the first big-name program that shows interest. …

"By coming to UConn when it comes calling — and it will — Rizzotti won't have to move in order to go from a good coach with decent talent to a great coach with outstanding talent."

It's hard to imagine the day when Auriemma isn't patrolling the court in front of the UConn bench. But when it does happen, Rizzotti appears not only to be the early favorite, but also the best qualified.