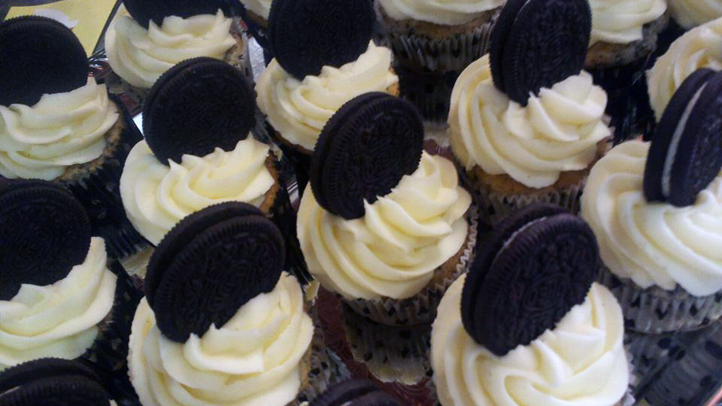 Craving something sweet? How about making your way down to a neighborhood that is getting a facelift.
SoHo, TriBeCa and NoLita are a few of New York's nick-named neighborhoods, but you won't have to travel to the city to experience the cool city vibe.
NoRA, although not yet a widely popular nickname for "North of Rapallo Avenue" is gaining popularity with much gratitude to NoRA Cupcake Company in the North End of Middletown.
NoRA Cupcake Company, which opened on New Years Eve of 2011, has quickly made its name in Middletown. Offering free wireless Internet and a cool lounge-like vibe, people of all ages are venturing down to the North End.
Even though it might be a new company, the owners of NoRA are no strangers to the area.
Phil Oullette opened Eli Cannon's Tap Room in 1994 and Eli Cannon's Trading Company, which opened on Nov. 25.
NoRA, which is co-owned by Carrie Carella, is the third company Oullette has owned.
All three businesses are located within walking distance of each other.
However, NoRA is pushing the limit when it comes to originality.
Unlike Oullette's other businesses, NoRA specifically sells gourmet cupcakes. Every day begins with a new menu, but the "Irish Car Bomb," made with Guinness chocolate cake, Jameson dark chocolate ganache and Bailey's Irish Cream frosting seems to be a popular treat.
In anticipation of Valentine's Day, NoRA has created a special Naughty and Nice cupcake menu.
"Layers of my Heart," which is made with red, pink, and vanilla cake with whipped frosting tops the "Nice" Valentine's Day menu while "Sweet Revenge," a champagne cake with a dark chocolate center, is featured on the "Naughty" list.
Other daily delicacies include, "Peanut Butter Explosions," "Chocolate Mint" and "S'mores." New cupcakes are made fresh in the bakery and pastry chef works full time to ensure vegan options on the menu. Gluten free treats can be purchased as well.
Order cupcakes in advance by calling (860)788 – 3150.
The NoRA facebook page also highlights the daily cupcake menu. If you are looking for a special creation, NoRA bakers are happy to make them for you with a week's notice by calling the store.
NoRA is located at 700 Main St., Middletown. It is open Wednesday through Saturday, from 10 a.m. to 7 p.m., and Sundays, from 10 a.m. to 3 p.m.