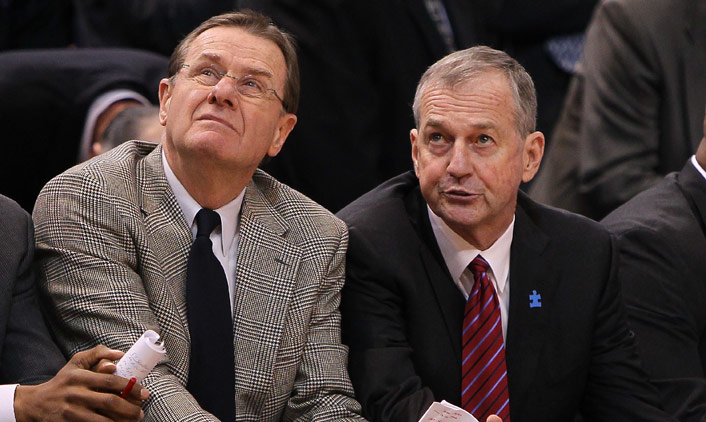 Sixty-nine-year-old UConn coach Jim Calhoun will undergo surgery Monday for spinal stenosis, and he's expected to be hospitalized for one or two nights. And while the news brings some finality to an issue that has kept Calhoun off the bench since early February, the issue now becomes whether the Huskies can survive without him.

There are three games remaining in the regular season (Syracuse on Saturday, Providence on Tuesday and Pittsburgh the following Saturday) and Calhoun's return remains uncertain. The Huskies are 5-4 under associate head coach George Blaney this season (Calhoun has missed six games because of his back, another three as part of NCAA sanctions for recruiting violations) and currently find themselves at 17-10 overall and 7-8 in the Big East.
Never mind defending their national championship, UConn is in real danger of missing the tournament altogether. (And should that happen, and the NCAA doesn't amend its rules of determining APR scores, the Huskies might already be out of the 2013 tournament.) Details via the Hartford Courant's Dom Amore:

"When and if [Calhoun] does return, the Huskies will probably still be fighting for postseason position. The Huskies are 3-3 while Calhoun has been out with his back problem. Assistants Kevin Ollie, Glen Miller and Karl Hobbs all take on added duties with Calhoun out.

"NCAA bracket analysts place UConn, ranked 27 in the RPI, on the borderline for making the tournament. The Huskies probably need to win at least two of their remaining three games, and perhaps one or two in the conference tournament."

Syracuse is one of the best teams in the nation, which means that the Huskies will likely have to beat Providence and Pitt, get hot in the Big East Tournament, and hope for a little luck along the way.

Then again, stranger things have happened. The only difference is that a year ago the Huskies had both Calhoun and Kemba Walker before they embarked on their 11-0 run through the postseason. The task is a lot more daunting without them.