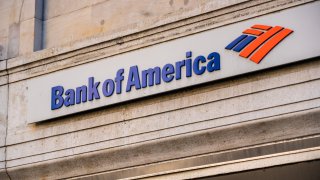 What to Know
Bank of America said that about half way through its first day administering a small business relief program, more than 58,000 customers applied for $6 billion in loans
As of mid-afternoon Friday, among the largest U.S. lenders, only Bank of America and JPMorgan Chase were accepting applications for the program, which was supposed to go live shortly after midnight
The chaotic launch heightened fears among business owners that they could miss out on the historic program if lenders manage to disburse all $350 billion of the money
Bank of America said that about half way through its first day administering a small business relief program, more than 58,000 customers applied for $6 billion in loans.
The bank was the first major lender to get its web portal for the Paycheck Protection Program up and running, and it was soon inundated with requests.
"That is an astounding number of applications to take in such a short period of time and considering we just launched the site this morning at 8:45 a.m.," a Bank of America manager told staff in an email. 
As of mid-afternoon Friday, among the largest U.S. lenders, only Bank of America and JPMorgan Chase were accepting applications for the program, which was supposed to go live shortly after midnight. JPMorgan's site went live with a temporary version of its portal after 1 p.m. Further, Wells Fargo announced that it will be unable to accept applications on Friday.
The chaotic launch heightened fears among business owners that they could miss out on the historic program if lenders manage to disburse all $350 billion of the money. Treasury Secretary Steven Mnuchin has said he would request more money if that happened, but that would require Congressional approval. 
The U.S. government has asked banks to help it dole out at least $350 billion in loans to small businesses, part of the $2 trillion coronavirus stimulus bill signed last week. But banks and industry groups have complained that they lacked the guidance to get online systems up and running until just hours before the deadline. That guidance was finally issued by Treasury around 7 p.m. Thursday, leaving banks scrambling to get their systems to accept loan applications.
"Having just received guidance outlining how to implement a $349 billion program literally hours before it starts, we would ask for everyone to be patient," Richard Hunt, head of the Consumer Bankers Association, said late Thursday. He added that the organization's members would "move heaven and earth to get a system in place and running to help America's small businesses and the millions of men and women who work at them.
Even at Bank of America, there was confusion among customers about the program. The bank is prioritizing existing customers with online accounts who are active borrowers as of last month, meaning that even longtime customers are being initially shut out of the application process. Dozens of irate customers took to social media to complain.
Bank of America CEO Brian Moynihan said Friday on CNBC that the bank would initially focus on "borrowing clients" before turning to other small business customers and then ultimately new clients.
"We have to focus on the borrowing clients to make sure we can take care of them," he said.
Sen. Marco Rubio criticized Bank of America for its decision, saying it wasn't a government requirement that customers have loans to be approved for the program.
Bank employees toiled overnight on the program and shifted workers into loan processing roles to handle the expected deluge of applications. The latest version of the government's borrower application form was posted on Treasury's website at 10:30 p.m. Thursday night, according to an industry source.
Mnuchin said Thursday in a press conference that the Paycheck Protection Program would be "up and running" on Friday. At 8:42 a.m., he tweeted that community banks "have already processed over 700 loans" for a total of $2.5 million. Then a minute later, he tweeted that "large banks expected to go live soon this morning," without naming the lenders. 
Still, until well past noon Friday, the website for JPMorgan, the biggest U.S. bank, told customers that it wasn't "accepting applications for this program at this time. Check back for updates."
The bank's small business portal became available a little after 1 p.m.
Wells Fargo told visitors to its website this message: "Financial institutions like ours continue to receive program implementation guidance from the SBA and the U.S. Treasury. Unfortunately, as a result, Wells Fargo will not be able to start accepting applications on Friday, April 3. When we are able to take applications, you'll find a link to that application on this page so check back often."
Customers also reported that banks and credit unions including PNC, Citizens and Navy Federal Credit Union have informed them that they weren't yet ready to take applications.
With reporting from CNBC's Kate Rogers.
This story first appeared on CNBC.com. More from CNBC:
Copyright CNBCs - CNBC