Connecticut has now surpassed 100,000 total coronavirus cases since the start of the pandemic back in March, Gov. Ned Lamont announced Friday afternoon. Meanwhile, the COVID-19 positivity rate in Connecticut is up to 6.6 percent Friday, up from 6.48 percent on Thursday.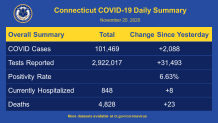 Connecticut has now confirmed 101,469 COVID-19 cases, with 2,088 new cases since Thursday. Eight more hospitalizations are being reported for a total of 848 current hospitalizations. 23 more people have lost their lives from the disease since Thursday.
On Thursday, the state had reached 99,381 cases of coronavirus since the beginning of the pandemic and 4,805 deaths.
The state has been tracking COVID-19 rates in cities and towns and 145 Connecticut communities are now on red alert, which is the highest alert level.
If you need a COVID=19 test, there are several places in Connecticut to get one. Find details here.
Stories from LX News
LX, or Local X stands, for the exponential possibilities of storytelling in our communities.