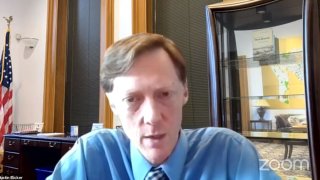 New Haven Mayor Justin Elicker urged city residents on Tuesday to adhere to COVID-19 safety guidelines over the Christmas holiday.
Elicker noted a surge in coronavirus cases after Thanksgiving and asked people not to hold large Christmas gatherings. He said the best way to keep the virus from spreading is through the efforts of the public to maintain the guidelines.
The New Haven Health Department will receive 1,000 doses of the Moderna COVID-19 vaccine on Wednesday, according to health director Maritza Bond.
The health department will vaccinate first responders and other health care workers beginning on Monday.