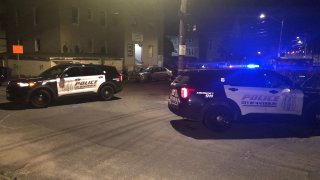 Police said two people were injured during a shooting on North Leonard Street in Waterbury Friday night.
Officials responded to the report of a shooting at approximately 8 p.m.
Responding officers found two men that had gunshot wounds. The men, aged 19 and 35, were taken to a nearby hospital for treatment of non-life threatening injuries.
Both men are in stable condition, according to authorities.
The shooting is under investigation. Anyone with information is asked to contact detectives at 203-574-6941. The crime stoppers anonymous tip line can be reached at 203-755-1234.