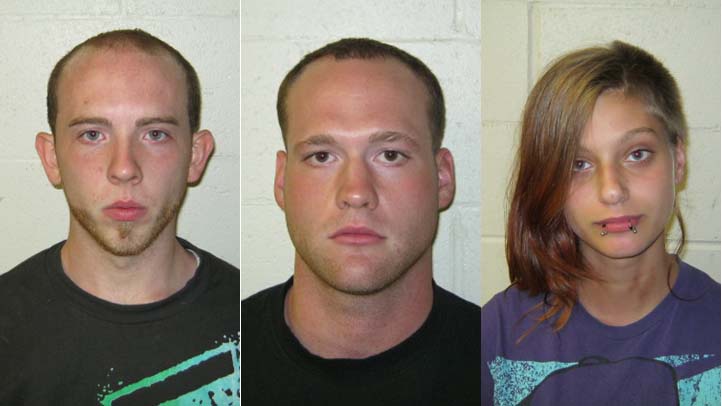 Three people who were arrested on Tuesday, accused of staging a fake kidnapping in Plainfield, said it was all a misunderstanding.

Police said two men tied a girl up with electrical tape and threw her in a car in front of a convenience store around on Tuesday morning.

Witnesses called police around 7 a.m. to report a kidnapping on South Main Street, in the Moosup Village section of Plainfield, near Cumberland Farms, and said a dark Nissan with North Carolina plates sped off with a female bound in the trunk.

When those calls came in, Plainfield officers were clearing the scene of a standoff on Cornell Road.

Within minutes, police swarmed the area and found the car minutes laters, less than a mile away at 46 Aldrich Avenue. They determined that the kidnapping was a prankand said it was an elaborate hoax.

Police arrested Danny Vinal, 21, of Mortimer Road in Moosup, Mark Reasoner, 22, of North Sterling Road in Moosup, and Harley-Jane Davidson, 19, of Middle Street in Danielson and charged with breach of peace in the second degree

They were released on bond yesterday and said they had been joking around with electrical tape out of boredom and this was a misunderstanding.

"The word kidnapping really never came up," Vinal said.

"Never any intention of anything like this whatsoever," Davidson added.

"We wanted to have fun that was it. It was all about fun," Vinal said.


Police said incidents like this endanger the public and police.

"They said they had nothing going on. There was nothing to do. They thought this would be a funny prank to pull," Police Chief Michael Surprenant said.

He said many of his exhausted officers rushed to the scene from an overnight standoff, where a man barricaded himself in his home.

"It spread us very thin," Surprenant said. "We were already working another major crime at the time when this came in we thought we had a female victim inside the trunk."

Taxpayers who fronted the bill for possible police overtime weren't amused either.

"Definitely disappointing that police had to come out, waste their time," Nate Collello said.

The group of friends said they had been joking around, used electrical tape on each other out of boredom and said a prank was never the plan.

"Definitely not, I was hoping it wasn't going to turn out like that," Vinal said.

All three are scheduled to appear at the Danielson Superior Court on July 22.