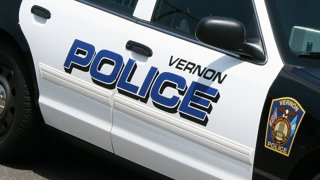 Three people were transported to the hospital on Tuesday morning after a multi-vehicle crash in Vernon.
A Ford Fusion and Pontiac Bonneville crashed on Route 83 between Dobson Road and Merline Road just after 9:30 a.m., according to police.
A man driving the Ford and a child who was a passenger in that car were taken to Hartford Hospital. The driver of the Pontiac was also injured and taken to St. Francis Hospital.
None of the injuries appeared to be life-threatening, according to police.
Three people have been transported to Hartford Hospital, police said. Authorities did not release details on the extent of any injuries.
Route 83 was closed for several hours and reopened around 1 p.m.
Police are asking anyone who witness the crash to call them.