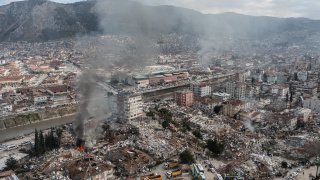 Stamford-based Americares is sending a team to Turkey to help after the devastating earthquakes that have killed thousands of people in Turkey and Syria.
"With health centers damaged or destroyed, there is an urgent need to treat survivors with injuries and serious health conditions," Cora Nally, Americares' director of international emergency response, said in a statement. "Our relief workers have extensive experience coordinating large-scale shipments of medicine and relief supplies, mobilizing emergency aid in crisis situations and restoring health services for disaster survivors, and we'll be on the ground soon to help address the most pressing health needs of families affected by the crisis."
As of Tuesday afternoon, more than 6.200 people have died and the number is expected to rise.
Americares said the team will be headed to southern Turkey and is expected to leave within 24 hours.
The organization is also getting ready to send shipments of medicines and relief supplies, including IV fluids, hygiene kits, wound care products and chronic disease medications.
Americares said it is also providing emergency funding to organizations to help restore services and funds will be used to purchase fuel for a generator at a hospital in Gaziantep province to allow the facility to continue to provide health services, including surgeries for people injured in the earthquake.
To donate, go to americares.org/Turkey-SyriaRelief