The weather pattern isn't great and it's a bear to forecast. The biggest item of interest on the weather map is an exceptionally deep and strong upper level low hanging out over the Deep South. This low is going to strengthen even more over the next 24 hours and will directly influence our weather.
For starters, let's talk about how unusually strong this low is for the time of year. The midday GFS computer model (above) shows 500mb heights of -5.7 standard deviations from normal over Mississippi tomorrow afternoon. Think of about as far to the left on the bell curve as you can get. You can think of how high a certain pressure level is above our heads as a proxy for how strong the low is.
Today's high clouds are a sign something is up in the atmosphere. Moisture is streaming in way above our heads associated with the big low to our south. Lots of cirrus clouds all around!
With this low to our southwest we are watching a little wave of energy that will eject northeast toward New England later tonight and tomorrow morning. Yesterday, virtually all of our computer models (with the exception of the RPM) didn't do much with this wave. Today, all of our models are trending much more impressive with the wave producing a period of clouds and rain late tonight and tomorrow morning. Figuring out the strength, timing, and track of these ejecting waves is never easy. The SREF precipitation forecast shows virtually all of the ensemble members (21 out of 21) producing rain Wednesday morning prior to noon. The midday GFS model has also jumped above the rain train and this morning we updated our forecast to include more widespread morning rain. Given ample moisture and a stronger piece of energy moving in tomorrow morning rain is a prudent forecast.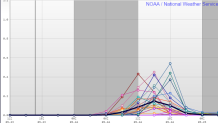 Beyond tomorrow's wet morning we'll have more rain to contend with Thursday and Friday as the entire low wobbles northeast. Rain and thunder appears likely for the end of the workweek. Hey, at least the drought is over.