Federal health officials say the mosquitoes that can transmit the Zika virus might live in a broader swath of the U.S. than previously thought -- but that doesn't mean they'll cause disease here.
The Centers for Disease Control and Prevention on Wednesday posted new maps of the estimated range of Aedes aegypti mosquitoes, and a related cousin, on its website, but cautioned that the maps are not meant to represent the risk for spread of disease.
Instead of just being in the southern part of the country, the new maps say the range may extend into parts of the Midwest and as far north as parts of New York and Connecticut.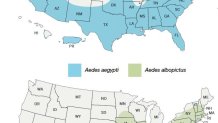 There have been 273 cases of travel-associated Zika virus in the United States, including one in Connecticut. None of the people to get the virus have contracted it in the United States, according to the CDC.
Previous maps were about a dozen years old.
CDC officials describe the new ones as its best estimate, and include areas where the mosquitoes have been seen recently or previously.
Copyright AP - Associated Press