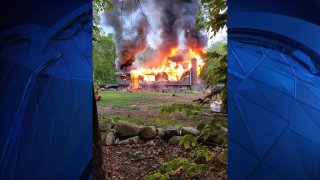 The Moosup Fire Department and surrounding towns battled a structure fire on Ralph Street in the Moosup section of Plainfield.
The blaze broke out at approximately 6:20 p.m. Firefighters said the home was fully engulfed in flames when they got to the scene.
The blaze is under investigation by the Plainfield Fire Marshal. The Connecticut State Police Fire Explosion Investigation Unit was called to the scene to help determine the fire's origin.
Several fire departments provided mutual aid, and extinguished the blaze.
No injuries were reported. Anyone with information is asked to contact officials at 860-564-0804.