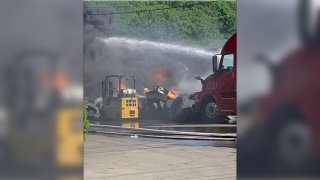 Emergency crews are responding to a large fire on Dudley Avenue in Wallingford Tuesday.
Wallingford Deputy Fire Chief Sam Wilson said crews were first called to 136 Dudley Ave., listed as TriState Tire, around 4 p.m. When crews arrived they found a large tire fire burning at two structures on the property.
Mutual aid responded from Hamden and Meriden to help control the blaze, which took around one hour to extinguish. Both structures suffered minor damage.
Two firefighters were evaluated, and one was taken to the hospital for exhaustion. No other injuries were reported.
Viewer video shows smoke billowing into the air.
The cause of the fire is under investigation.