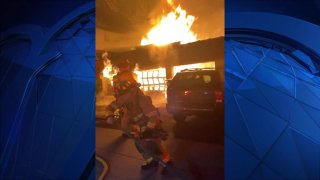 A firefighter was injured battling a garage fire in Stamford on Sunday morning.
Firefighters were called to Diaz Street around 5 a.m. after getting a report of a large garage on fire near several homes.
When crews arrived, they said they found a large, three-bay garage well-involved in fire. The fire was coming through the roof of the building and was close to several nearby homes, firefighters said.
Crews were able to quickly extinguish the fire and safely evacuated the occupants of all of the affected homes, according to officials.
One firefighter sustained a minor injury while fighting the fire, fire officials said.
The cause of the fire is under investigation by the Stamford Fire Marshal's Office.