The husband of Jessica Edwards, a South Windsor woman who was found dead in East Hartford Friday, admitted to police he and his wife got into a fight in their condo and at some point, he realized she was no longer alive, according to the arrest affidavit.
Tahj Hutchinson, 22, was arrested Friday evening and charged with first-degree manslaughter in the death of the 30-year-old South Windsor mother.
The Office of the Chief Medical Examiner has ruled Edwards' death a homicide and said she died of asphyxiation due to compression of the torso and neck.
Hutchinson appeared in court on Monday and bond has been set at $1.5 million.
He initially told police he didn't know what happened to Edwards, who was first reported missing on May 10 by her sister.
"I feel empty, my mom feels empty, I feel like I lost my best friend. I feel like I just died with her honestly," Edwards' sister, Yanique Edwards, said Monday, "but I'm keeping strong for her son because her son needs me."
Edwards' sister reported to police she showed up at Edwards' South Windsor condo that Monday night after not hearing from her all day. She told police when she arrived, Hutchinson had a blanket or comforter covering something in the back of his Jeep Grand Cherokee and he sped off shortly after she arrived, according to the court documents.
Hutchinson showed up at the East Hartford Police Department around 11:15 p.m. that night to report his wife was missing, according to the affidavit.
South Windsor police arrived in East Hartford to interview Hutchinson. The officers noted Hutchinson was barefoot when they arrived. They asked him why he was reporting her missing to East Hartford police, he told them it was because Edwards was previously at a home there.
Through several search warrants, police were able to obtain evidence, including the comforter from the Jeep, which had some stains that appeared to be blood, according to the affidavit.
During several interviews with Hutchinson, police said he appeared unemotional about Edwards' disappearance and never asked if there were any updates on her whereabouts.
They also asked him about scratches he had on his face. Hutchinson told police he scratched his face while putting new brake pads on his truck.
Officers said the truck didn't appear to have been worked on. Video surveillance later obtained by police of the condominium parking lot showed Hutchinson never worked on the truck, according to the affidavit.
Stories from LX News
LX, or Local X stands, for the exponential possibilities of storytelling in our communities.
Police also obtained cell phone data from Hutchinson's cell phone that showed his phone connected to a cell tower near Labor Field in East Hartford shortly before he arrived at East Hartford Police Department to report Edwards missing. There was an 18-minute gap in time from when he left his South Windsor condo in the Jeep, according to the affidavit.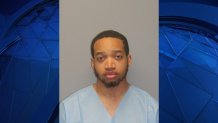 That info led police to search off of Driver Road in East Hartford, where they located Edwards' body in a wooded area.
After finding her body, police confronted Hutchinson with the information they had and it was then that he told detectives the two had gotten into a fight on May 8 over guinea pigs that he got her as a gift, the court documents stated.
Hutchinson told detectives the couple continued to fight on Mother's Day, May 9 and the confrontation became physical.
On May 10, Hutchinson said he and Edwards fought again, and that he believed she reached a "breaking point." He said she hit him in the head with a laptop and at one point grabbed a kitchen knife, according to the affidavit.
According to Hutchinson, the couple wrestled for the knife and he pinned her to the ground, eventually flipping her onto her stomach and kneeling on her back and neck, the court documents stated.
Hutchinson said Edwards stopped moving and he didn't know what happened, so he got up and when to take care of the couple's 7-month-old son. When he returned, Edwards still hadn't moved and he realized at that point that she was not alive, he told police.
Hutchinson left Edwards' body on the floor for the rest of the day. He admitted to police he eventually backed his Jeep up to the front of the condo and put Edwards' body into the back of the SUV, according to the affidavit.
He said he drove away and selected a "random GPS" location while on his way to the East Hartford Police Department, stopped and dragged Edwards' body into the woods, the court documents stated.
Investigators said more charges may be filed pending the results of an autopsy and the ongoing investigation.