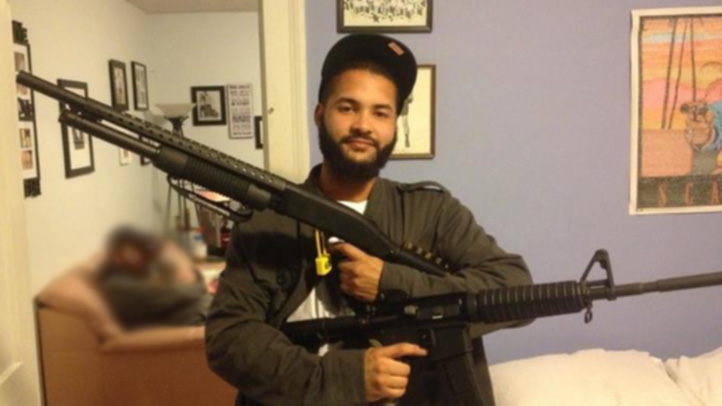 Farmington police have arrested a 31-year-old Avon man accused of threatening to shoot his ex-girlfriend, her 11-year-old son and referencing committing crimes similar to those committed in Newtown and Columbine.

Farmington police arrested Darnell Jerome Davis at his house on Thursday, took him into custody and he is being held on $2.5 million bond.

The investigation began in Hartford on Dec. 27, when Davis' ex-girlfriend complained of receiving threats while she was at work. She told officers she feared for her safety as well as for her coworkers' safety.
Police investigated and learned Davis had sent several threatening text messages to the victim on Dec. 17, while she was at home in Farmington, police said.
According to the warrant, Davis' texts included:
"Imma shoot ur son school U leave me" and "Adam Lanza did God's work," referencing the man who shot and killed 20 first graders and six staff members of Sandy Hook Elementary School in Newtown.
The ex-girlfriend told police that "Davis had threatened to shoot up her son's school," and said it would be worse than the shooting at Sandy Hook Elementary School, where 20 first graders and six staff members were killed.
The arrest warrant application states that the victim told police that there were photos on Facebook showing Davis holding a shotgun and an assault rifle.
The investigation became a joint effort between Hartford and Farmington police and Farmington officers found Davis at his residence on Dec. 27.
When they questioned him, David said he did not remember the texts, but then began to cry, said he used a lot of marijuana and it has an affect on his memory, according to police.
Davis told police that he never had intentions of killing his ex-girlfriend or her son, but that he was angry and wanted to hurt her emotionally, according to police.
Officers did not find guns at Davis' residence and police do not believe he owns any guns.

Davis was charged with two counts of criminal violation of a protective order, breach of peace in the second degree, threatening in the second degree and harassment in the second degree.

Police said Davis had been arrested six times for incidents related to the relationship and there was a protection order in place when the messages were allegedly sent on Dec. 17, but the restraining order and GPS bracelet from a prior domestic incident were removed on Dec. 18.
Court records show prior convictions for second-degree stalking and drug possession charges out of Bristol, harrassment charges in Farmington in 2008 and a violation of a protective order in Farmington in November.