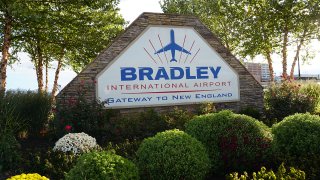 A Transportation Security Administration (TSA) spokesperson said officers found a suspected grenade in someone's checked baggage at Bradley Airport on Tuesday.
The grenade was found in a passenger's bag during the screening process at about 1:30 p.m. Bradley officials said no airport operations were affected.
Connecticut State Police and Transportation Security Specialists-Explosives responded.
The spokesperson said officials confirmed the grenade was inert. Authorities took possession of it and the passenger was eventually allowed to continue on.