Our computer models have wobbled west and wobbled east over the last couple days. This is to be expected. What's remained relatively consistent is our forecast of a "glancing blow" from Jose with a minor to moderate local impact. The National Hurricane Center forecast looks good to me with the storm passing about 100 miles south of Nantucket on Wednesday.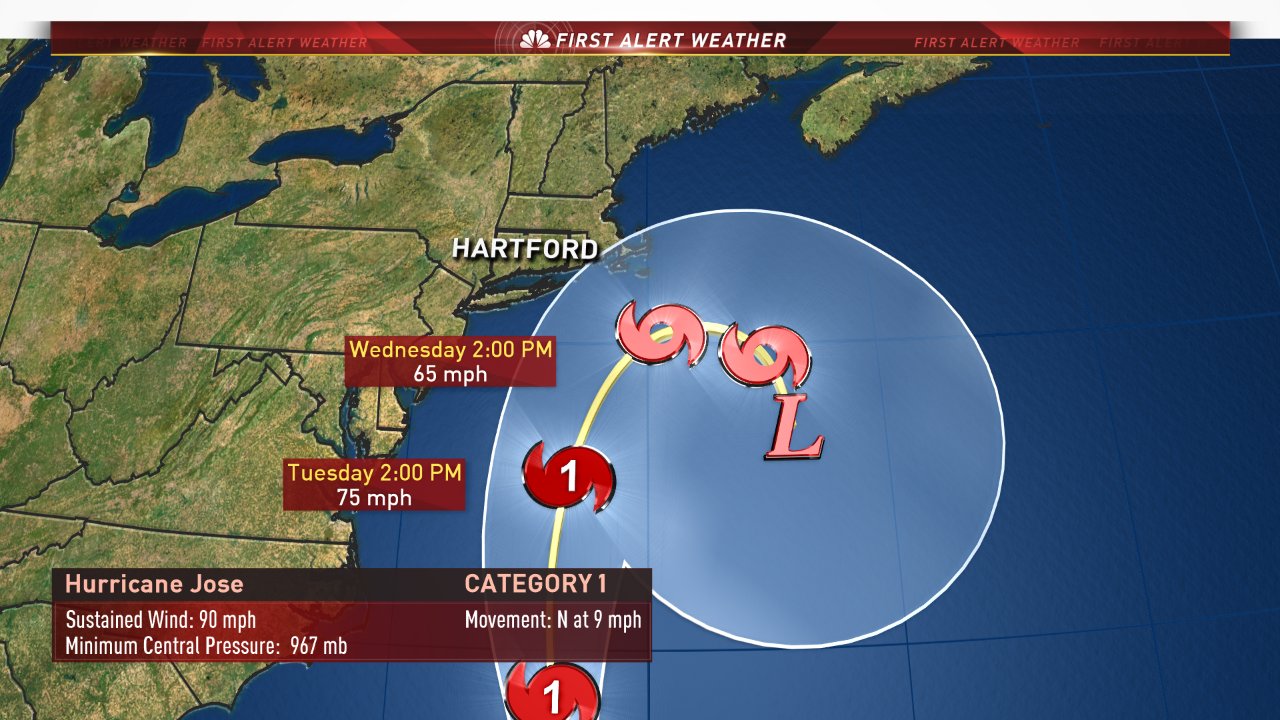 We're right on the western fringe of this one and only a small deviation in track will make a big difference in impact. Here's what I'm thinking right now:
Rain begins Tuesday morning with occasional squalls Tuesday, Tuesday night and Wednesday morning.
Winds will increase Tuesday and peak Tuesday evening through Wednesday morning. Peak gusts in excess of 40 mph are possible from New Haven on east along the shoreline. Gusts should remain below 40 mph inland.
Rainfall totals of over 1 inch are possible in southeastern Connecticut. Rainfall amounts will diminish the farther north and west one goes.
Storm surge flooding does not look to be a big deal. A northerly wind is mainly offshore on the Connecticut coast. Minor issues at worst.
Isolated or sporadic tree and power issues are possible in some towns - particularly along the shoreline.
There is still time for things to change. A track on the western side of the NHC cone would result in more significant impacts - more wind and more rain. A track on the eastern side of the NHC cone would result in less impact - with less wind and less rain. If there was a side I am currently favoring it would be the eastern or less impact side. We'll have to watch trends over the next 24 hours.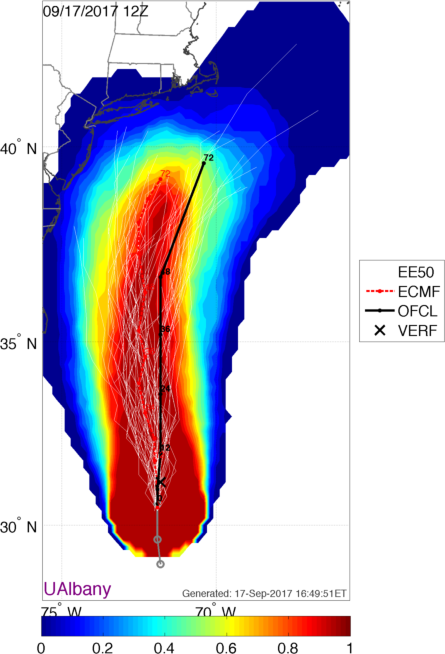 The European model (pictured above) is on the left side of the NHC forecast while the GFS is on the right side. Again, the extent of impacts is still not quite clear though at least some minor to moderate wind and rain event seems like a good bet.
Believe it or not it's possible Jose may do a loop-de-loop southeast of New England over the next 7 days. While this is unusual it's not unprecedented. In fact, the weather pattern right now is very similar to 1961 when hurricane Esther did a loop off the Cape. Unlike Esther, Jose is a much weaker storm and impacts will be much more limited.