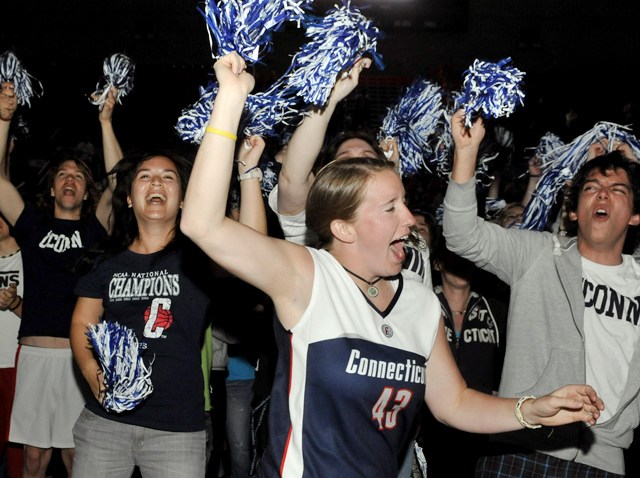 The University of Connecticut women's basketball team returned home on Wednesday afternoon after winning its second-straight national championship.
The team touched down at Bradley International Airport around 3:45 p.m. The back-to-back national champions were greeted by a small crowd of Uconn faithful who cheered as they walked off the plane.
The team was then escorted by police back to Storrs, where a new sign announcing their 2010 title win greeted them near exit 68 on I-84. A larger crowd of fans welcomed the team home with a thunderous applause and plenty of homemade signs and Husky memorabilia.
"This team is so talented. What's not to like about the Uconn women this year? You've got Maya Moore and Tina Charles, they're all very talented girls," said Jeff Walker, of Bloomfield.
Coach Geno Auriemma and Junior forward Maya Moore made remarks to the crowd, thanking them for their support and dedication. A short video highlighting the team throughout the year was also shown at the Gampel pep rally.
"We won two years in a row, but this year was different. This is a group where we've never been in a situation coming off a national championship. We had even more expectations and pressure and I'm so happy with the way we handled it and the way we responded, especially in the last game. We're enjoying it this year even more," said Maya Moore.
The Huskies rallied to beat Stanford, 53-47, Tuesday night in San Antonio for their second-straight undefeated season and national title.