The weather has been cool and dreary to start the week but changes are coming by Wednesday.
Temperatures Monday afternoon ranged from the upper 50s to middle 60s which is 20 to 30 degrees below normal.
Expect a cool night ahead with temperatures falling into the low to middle 50s for inland areas of the state and near 60 along the shoreline.
Temperatures on Tuesday will be a few degrees warmer with high temperatures forecasted to reach the upper 60s to near 70.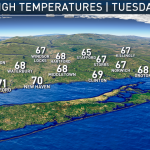 More summer-like weather moves in by Wednesday with mostly sunny skies and temperatures forecasted in the upper 70s to low 80s.
Take a look at the temperature trend over the next seven days.