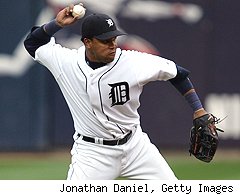 Watertown police are searching for a suspect who robbed a Webster Bank at gunpoint Tuesday morning, and the Connecticut Bankers Reward Association is offering a reward for information that leads to an arrest.
Watertown police said they responded to the Webster Bank at 544 Straits Turnpike around 9:30 a.m. According to police, the suspect entered the bank with a handgun, then pointed the gun at a customer and tellers and demanded cash.
The suspect is described as male wearing black pants, a black sweatshirt, a baseball cap with a red and white logo and dark sunglasses.
Police said the suspect fled in a large SUV traveling west on Straits Turnpike toward Middlebury Road. Two red dye packs were thrown out of the vehicle and exploded in the street. Police are not sure if the suspect got any of the red dye on his hands or clothing.
The Bankers Reward Association is offering a $1,000 for information leading to an arrest in this case.
The FBI is assisting Watertown police in this investigation. Anyone with information is asked to contact Watertown police at (860) 945-5200 or Crimestoppers at (860) 945-9940. Calls may be kept confidential.