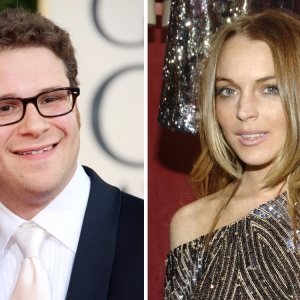 Sounds like Lindsay Lohan wants to get back into comedy.
In a new interview with Nylon, the "Mean Girls" star said she's been trying to put a project together with Seth Rogen, the funnyman who's become a household name in recent years thanks to movies such as "Knocked Up" and "Pineapple Express."
VIEW THE PHOTOS: Lindsay Lohan
"We're trying to get Seth Rogen for this project, but Seth won't call us back," she told the mag. "So call us back, Seth, if you're reading this!"
But if that doesn't work out, she has an Oscar winner in her pocket.
VIEW THE PHOTOS: Hollywood Hijinks With Funnyman Seth Rogen
"I talked to ['Milk' star Sean Penn] again the other day," she said.
And the camera-friendly star wouldn't mind spending more time with photographers, as well as filmmakers.
"I love doing photo shoots… I mean, if I could just sign with IMG and do ad campaigns and model more, I'd do that," she said. "That's fun for me. That's not work."
As for her turbulent last few years, which included a legal scuffle earlier this week, she said she's "glad everything turned out the way it did."
"There's not much I can do about the fact that I've become a kind of tabloid obsession," she said. "I can't change that. And yes, the websites, the gossip pages, and all of that stuff have hurt my career – they're like the Burn Books of Hollywood… but I really don't feel like I should have to prove myself to anyone because of living out my college years in the public eye."
Related Content from AccessHollywood.com:
PLAY IT NOW: Lindsay Lohan's Crazy Weekend (March 16, 2009)
PLAY IT NOW: T.G.I.F. Does Lindsay Lohan Want To Be Jewish? (March 3, 2009)

MORE ACCESS ON THESE TOPICS: Lindsay Lohan - Seth Rogen - Celebrities - Young Hollywood - Movies

Copyright NBCAH - Access Hollywood