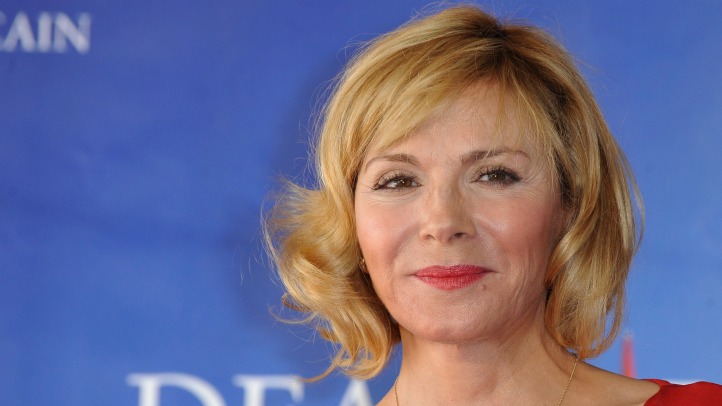 Kim Cattrall is beloved for her role as straight-shooter Samantha Jones on "Sex and the City," and it turns out, she's not about to start mincing words once the cameras are off.
"As an actress I've always, especially in movies, been playing sexy roles and have been sexualized," she tells PopcornBiz. "Some of it I think was unconscious, because as a young actress I wanted to work and I wanted to learn what it was like to be in front of the camera – I also wanted to pay my rent." Now, even after playing the aggressive, sexually liberated Samantha and other fab-over-40 roles, the 54-year-old is, like Monica Velour, confronting where her place will be in an world that often places youth and sex appeal over talent and experience."
In "Meet Monica Velour" (opening today), Cattrall takes on the role of an aging, out-of-work porn actress struggling with a trailer park existence and the arrival of her biggest, teenaged fan. And the actress, after delivering a subtle, nuanced performance with eye-opening effectiveness, has a lot of thoughts on the state of womanhood today – both in Hollywood and in society – that she voices with a studied seriousness Samantha rarely summoned.
"We're still into worshipping into youth, and you can look youthful in your fifties, but you're at the youth end of the last chapter, really," she says. "You have to be realistic about it, and you think, 'Well, where do I fit in?' So that really appealed to me – there's a parallel there. Certainly I'm not in dire straights, living in a trailer park and fighting for the custody of my daughter, but I could really relate to that feeling of being marginalized."
"I think that at 54 that's happening," she admits. "I've never been marginalized before and it's an extraordinary feeling, where you're just feel like 'Well, where is my contribution going to be and what is going to be, especially in this machine of Hollywood?'"
She also says that "Sex In the City 2" got mired in post-release debates focused on the ages and appearances of the leading ladies rather than the admittedly arguable quality of the movie. "Like the film or not, the backlash of ageism was very ugly," she says. "I mean, why do I have to look good 'for my age?' Why can't I just look good? They airbrush 17-year-olds. They've been airbrushing me since my first still was taken, because I had a pimple or whatever. You think, 'Well, it's just too easy a target,' and nobody is speaking up about it. They're just letting it go. I think that's really a shame."
She also wrestles with the notion of Samantha – and by association, herself – as a role model for women. "When I'm Samantha, you can't be shy. You have to go 100%, and when I've tried to do it [in real life], sort of-kind of, I can't," she says. "There are positive things in the sense of the powerful image that she has and the choice that she has. She chooses these men, these relationships, these women to be in her life and she has so much experience. And she is so protective of women. She's the older one and so she's gone through more, in the sense of her arc, her history. I think those things are very positive."
But she worries about young women who've embraced Samantha's boldness without the benefit of their own accumulated wisdom. "I say to teenage girls, 'Don't try and be this because you're not 30 or 40 – you're 18 or 19,'" she explains. "And when you see these girls – they used to call them 'Sex and the City' wannabes – on bridge-and-tunnel nights, dressing up like the characters, coming up to me and saying, 'I'm you,' you say 'You have to just slow down – you have to just be a girl before you can be a woman. Because there comes tremendous responsibility with that, that you're not even aware of.'"
"You're looking at a very pretty wrapper," she says, "but on the inside it's so much more complicated and wonderful and terrific and scary."