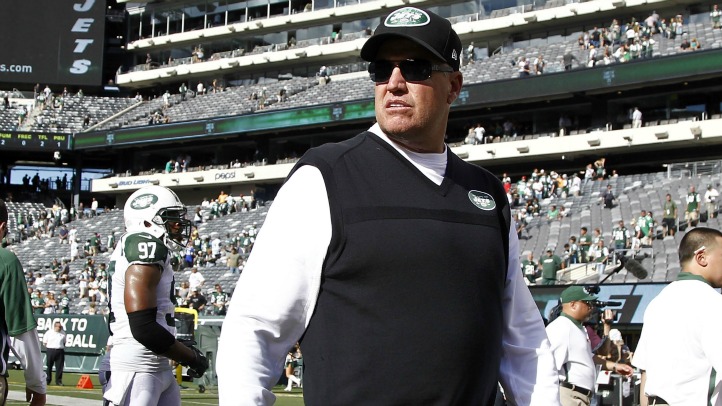 The reviews are in for the Jets' long-awaited press conference and, to the surprise of only those who have never lived through a New York sports meltdown before, they are negative.
Everywhere you look, there's someone castigating owner Woody Johnson as a misguided incompetent for sticking with Rex Ryan or mocking Ryan's desire to install an offensive scheme that mirrors his own aggressiveness and attacking style. It's tough to argue too much about those takes.
Johnson didn't even bother trying to explain why Ryan survived when Mike Tannenbaum took the fall and his coaching staff was again tweaked around him. It sounded pretty much like what Johnson had to say about Ryan when he first hired him with almost no sense that there was an increased accountability on Ryan's shoulders for the state of the team.
And Ryan's assertions about the offense a year after vowing to take a bigger role on that side of the ball and hiring Tony Sparano as offensive coordinator because he was a "mirror" of Ryan are absolutely ridiculous. It's long past the point where it has become clear that Ryan has neither the affinity nor the skills for offense so anything he says needs to be taken with an entire salt lick.
Here's the thing, though. What kind of grand explanation people were expecting to hear from the Jets on Tuesday afternoon?
If you strip away the particular circumstances of this Jets season, there's not much to separate the Jets' postseason press conference from those held at the end of the season for every team that doesn't make the playoffs and doesn't fire their coach. Tom Coughlin and Jerry Reese didn't make any profound statements about the Giants because no one makes profound statements at these things.
You can't strip away the circumstances, of course, and the Jets opened themselves up to all manners of criticism for just about everything they did on and off the field this season. None of that makes their answers any more unusual on Tuesday.
Of course the Jets are going to say they believe Mark Sanchez can be their quarterback on a Tuesday in January because there's absolutely no value to them saying anything otherwise. Feel free to complain that they again failed to explain anything about why Tim Tebow was on this team, but just admit that any explanation would be derided as an excuse after the fact.
Johnson didn't make a playoff trip a mandate for Ryan keeping his job, but does such a thing really need to be spelled out? The Chargers and Eagles did that before this season, which basically makes you wonder why they wasted an entire season with a coach they couldn't even be bothered to fake support.
"My confidence in him as a coach, you know, obviously, gives me the confidence to keep him as the coach," Johnson said on Tuesday.
The construction of that quote is horrendous, but the content of it isn't markedly different than anything an owner of a losing team has said in the past about holding onto their coach. If Johnson's keeping Ryan as coach, it better be because of the passion and coaching acumen cited on Tuesday.
He might be wrong in his read on Ryan, but to say he's wrong to express belief in the man he's chosen to run the team stretches things way too far. And to go any further on Tuesday -- talking specifics about the quarterbacks or trading Darrelle Revis, for instance -- would have been nuts for a team without a general manager.
The Jets may be on the verge of another fall off of another cliff. If they do fall, though, it will be because of the offseason to come and not because of the same 45 minutes of talk we hear from all but a handful of teams every single year.
After all, if press conferences won you anything then the Jets wouldn't have to hold one to talk about a 6-10 season.
Josh Alper is also a writer for Pro Football Talk. You can follow him on Twitter.
Copyright FREEL - NBC Local Media