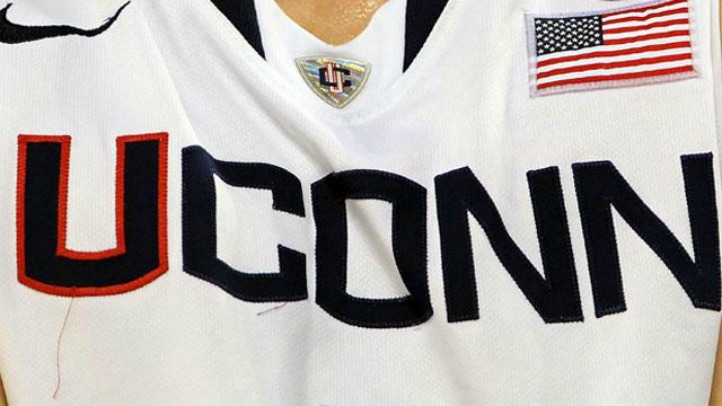 It's the slowest time of the year on the UConn athletics calendar; the 2013 seasons have concluded and unlike years past, there are no Huskies preparing for June's NBA Draft. But as we've noted before, recruiting is a full-time job, especially at big-time basketball programs, and in that sense there's always something to talk about.

Which brings us to 2014 recruit Bonzie Colson Jr., who made an unofficial visit to UConn on Monday. The 6-6 power forward for the St. Andrews School in Rhode Island, is something of an under-the-radar player at this stage of the proceedings. But his father has ties to New England, playing basketball for the University of Rhode Island in the late '80s and early '90s.

Colson Jr. averaged 16.8 points, 9.8 rebounds and 6.8 blocks for St. Andrews.

The New Haven Register's David Borges spoke to Colson Monday about his visit to Storrs.

"I definitely did (enjoy it), the campus is nice," Colson said. "They know I'm an under-sized four, there's not really a right position for me. They said they'd make plays for me and I'll adapt to their offense pretty well, because they'll play four out, one in."

Colson, who was named the Gatorade Player of the Year in Rhode Island, described himself as a "post player, very aggressive. I like doing the little things that other players don't like to do -- dive on the floor for loose balls. I bring a lot of effort and energy to the game."

And St. Andrews coach Mike Hart offered this scouting report.

"He's kind of an old-fashioned, throwback type guy. He's not going to 'wow' you when you see him play," Hart told Borges. "The 'wow' factor isn't there. You're not going to see the big body, the unbelievable quickness. What he does is, he's deceptively athletic and quick, and he knows how to play basketball and score in a lot of different ways."

Colson said he wasn't sure if UConn offered him a scholarship Monday, but listed the Huskies along with Pitt, Notre Dame, Iowa State, Florida State, Minnesota, Butler, Miami, Stanford, GWU, URI, Fairfield, Quinnipiac, Virginia Tech, Arkansas and Alabama as showing interest.

As is stands, UConn's 2014 recruiting class already looks good: NC State transfer and former McDonald's High School All-American Rodney Purvis transferred to Storrs this spring, and rising high school senior Daniel Hamilton committed to the program last month.