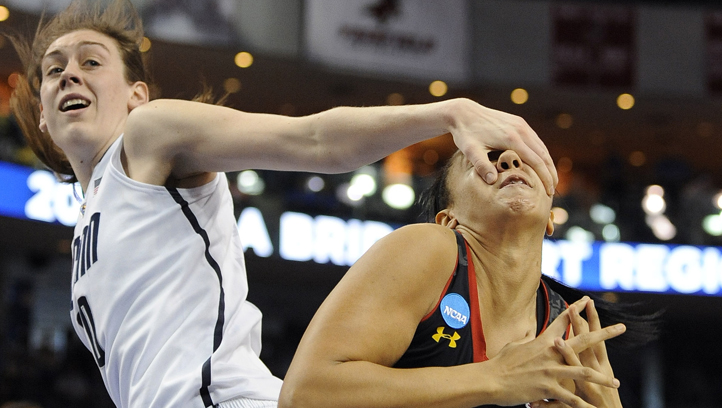 Geno Auriemma has been signing Breanna Stewart's praises since before she arrived on campus this summer. Back in November 2011, when Stewart was a high school senior but had already signed to come to UConn, here's what the coach said:

"She has something a lot of kids don't have," Auriemma said. "She has an incredible competitive spirit about her. She is one of the greatest competitors I have ever seen. "Maya Moore was a competitor. Diana Taurasi and Jen Rizzotti were competitors. Swin Cash was a competitor. We've had a ton of them here. This kid is in the mold of the best competitors we've ever had at UConn in how hard she plays, how great she wants to be, how much she wants to impact the game. And she's just a young kid who is learning.

"Based on her high school career, she's as good as any recruit we've ever had at UConn."

It's that last sentence that's the most noteworthy given all the great players -- most recently Moore -- that have come through the program. But Stewart has shown glimpses of her otherworldly talents, even though she hit a rough patch in the middle of her freshman season after a strong start. But she has returned to form in recent weeks just as the Huskies are making their way through the postseason.

Not surprisingly, this hasn't been lost on Auriemma (via the Hartford Courant's John Altavilla).

"I think God played a huge trick on everybody else in college basketball. Breanna Stewart walks out on the court and people are thinking, 'This is the best athlete in college basketball by far? Really, that's got to be an April fool's joke.'

"When you look at her, you don't expect her to be able to do the things she does, both good and bad. But I am sure that teams don't expect her to block shots the way she does, to be around the rim as much as she is, to be able to make the plays that most 6-4 or 6-5 kids cant make.

"I know Brittney Griner is 6-8 and she is everything people say she is. But she can't make the plays Breanna can. That said, Breanna can't do some of the things Brittney can.

"But there is something about Stewie. When its going well for her, I just have confidence she can do anything on both ends of the floor."

The Huskies will need Stewart to be at the top of her game Sunday when UConn tries to beat Notre Dame for the first time in four tries this season.