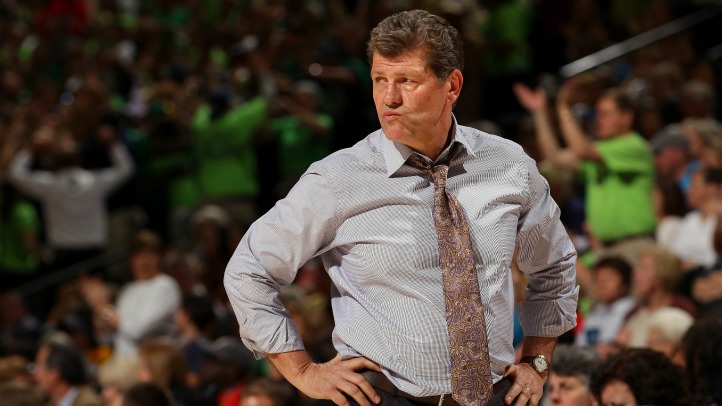 The Huskies made quick work of Colgate Wednesday night, 101-41. The result is hardly noteworthy; UConn's average margin of victory in its 6-0 start to the season: 48.7 points. But the victory signified something more significant than another early season "W."

When the Huskies face No. 11 Maryland in the Jimmy V Classic on Monday, it will be the 700th game since they lost two straight. It's a mind-boggling number, frankly.

"That goes to show what kind of dynasty Coach and CD (associate head coach Chris Dailey) have built," UConn senior Caroline Doty said according to SNY.com's Carl Adamec. "To play under a coaching staff that has such high standards that they don't allow you to lose back-to-back games … I mean, 700 is a lot of games. How many coaches even coach 700 games? For that to happen is something special and you commend the coaches for the consistency that they insist on. And they recruit players that won't accept losing.

"My sophomore year (in 2010)," Doty continued, "we chased perfection to get to excellence and that's a theme between the coaches and players. I think we have a great understanding of it. We take it personally."

The last time it happened? March 1993, 19 years ago, before many of the current Huskies were born. Adamec writes that the '93 squad's only senior, Kathy Ferrier, is now in her 40s. And Geno Auriemma, then in his ninth year at UConn, was 38. That squad went 18-11 and lost in the first round of the NCAA Tournament.

"That says a lot about this program," UConn senior Kelly Faris added. "The program has a lot of history and Coach knows what to instill in his players. It says a lot about how much they focus on maturity and the mentality of their players. It's the same approach whether it's a No. 1 versus No. 2 game or us against a Division II team. Whatever the game, they expect us to approach it the same.

Since the '92-'93 season, Auriemma's teams have never lost more than five times in a season, have 17 30-plus-win seasons, as well as the seven national titles. So how has he done it, not losing two in a row for almost two decades? Good question.

"I don't know how to answer that," Auriemma said via Adamec. "I think we prepare the same for every team. We take it seriously. Our coaches do a great job with their scouting reports. We don't take losing really well. When we do lose we come back with a mindset that's different. We don't feel sorry for ourselves. We don't wallow in it. We go back to work. And it helps to have really good players."

That last part can't be overstated. But it also helps to have an outstanding coach.