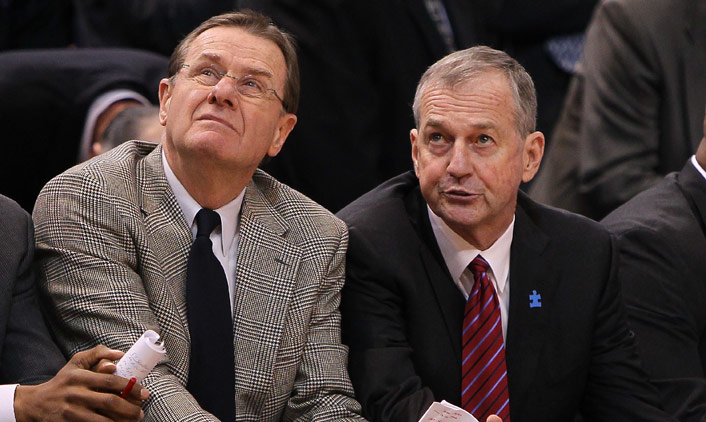 George Blaney has seen a lot. He spent 11 seasons as Jim Calhoun's assistant, now serves in that role for Kevin Ollie, and this is after 30 years as a head coach. The 73-year-old has also been the Huskies' interim coach in recent years, while Calhoun has been sidelined battling cancer and various injuries.

Calhoun handpicked Ollie as his successor but the two have completely different coaching styles. That doesn't mean Ollie won't be successful, something Blaney sounds sure of.

"I haven't changed my opinion about Kevin one bit," Blaney said via the Hartford Courant recently. "I still think he is going to be a superstar, even more so in the way he handled what he had to do to get the job. He never complained [about the short-term] contract. He had a total belief in himself … and what a great example that is, when you're trying to teach others to believe in themselves."

Athletic director Warde Manuel agreed, finally giving Ollie a long-term deal late last month after, well, everybody had lobbied for UConn to lock-up the 40-year-old coach since September.

Blaney, meanwhile, isn't looking too far ahead, instead enjoying the ride one day at a time.

"You reach an age where you stop thinking about the future and just think day to day," he said regarding his future. "When [Calhoun] signed his last contract, I joked that I was on a day-to-day contract and I had a lot of fun with it. I still feel good about what I am doing. At some point [after the season], I will sit down and evaluate it."

Blaney also admitted that he misses working with Calhoun.

" "Kevin and I have a good relationship, the trust is there," Blaney said. "He asks me things and I tell him what I think. But Jim and I had an unusual relationship over so many years. … I just hope Jim stays as happy as I see him now. He's a very giving person, and there are just so many opportunities for him away from basketball."