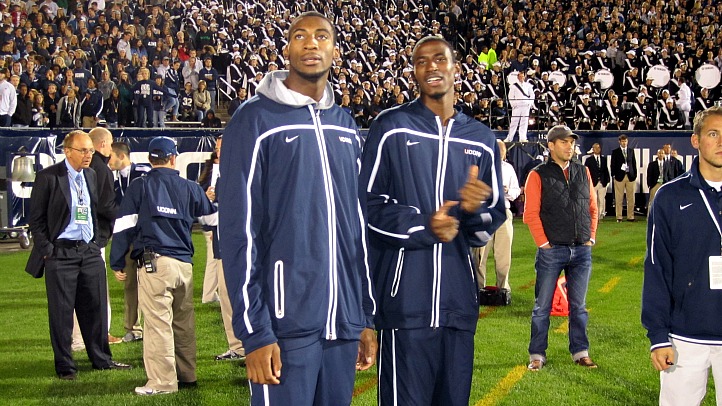 The 2011-12 college basketball season isn't underway until ESPN christens it so with Midnight Madness this Friday. On Wednesday, UConn held the annual Husky Run for its players, a 3.4-mile race that serves as the unofficial signal that basketball is back in Storrs.

"We've found the best way to avoid injuries is to have the players in as good a shape as possible," Jim Calhoun said before the race. And 19 minutes and 32 seconds later, freshman DeAndre Daniels was the first player to cross the finish line. Ten minutes and 27 seconds behind him: Andre Drummond, the best player in high school a year ago who committed to UConn over the summer. But Drummond might not be here if not for Michael Bradley, who gave up his scholarship because the Huskies, due to NCAA sanctions, had no scholarships to give.

Initially, it wasn't clear how Bradley had come to that decision. The fear was that he had been pushed in that direction. Turns out, he wasn't. Last month, Bob Smith (who is referred to as Bradley's "mentor," and is listed as Bradley's father in the UConn media guide) spoke to the Hartford Courant about it.

"To be honest, (at first) I felt uneasy about [Bradley giving up his scholarship for Drummond]," Smith said. "But as Mike got to talking about it, you could tell real quick this is what Mike wanted to do. He wanted to do this. (They) won a national championship last year, and Mike wants to do that again so bad. He has a passion for it at this point…I asked Mike, point-blank. He said, 'I'm not being pressured, it's not something I have to do, but it's something I want to do.'"

Now, on the eve of the season and nothing's changed.

"You'll sacrifice anything if you want something bad enough," Bradley told the Courant Wednesday. "It's an opportunity for me to get better, to go against a guy [in practice] every day who they're talking about as a top 10 NBA pick."

Calhoun, who admits that the Huskies had Drummond on their radar for three or four years, is well aware of the sacrifice Bradley made.

"Michael did a lot for the team," Calhoun said. "Suffice it to say, Michael stepped up when he didn't have to and did a great job. He utilized his disadvantages into an advantage for us, which is great."

According to the Courant, Bradley originally came to UConn for its school of pharmacy, though now he now wants to major in economics. More importantly, Bradley didn't want to transfer.

"I'll always be thankful for what Michael did for me," Drummond said. "Michael and I have a great relationship."