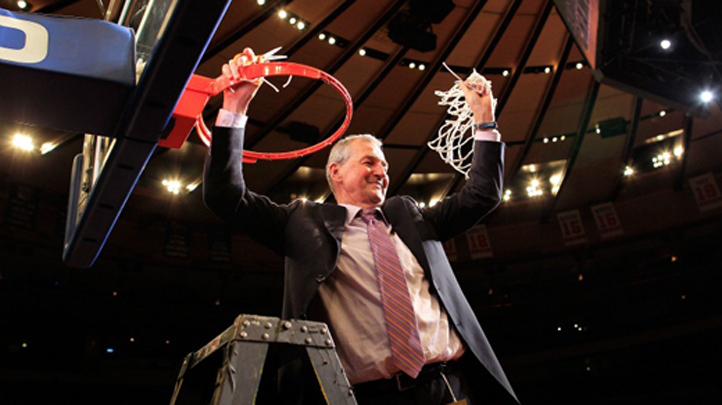 Officially, the college basketball off season runs from about April to September. Practice begins in October, the games follow a month later, and for the next five months or so, it's all basketball all the time. Unofficially, however, there really is no off season. Players continuously work on their game and coaches spend their time away from the court recruiting, schmoozing, and doing their best to maintain (or improve) the program's visibility.

Coach Jim Calhoun just celebrated his 69th birthday but he shows no signs of slowing down, even if he has yet to announce that he will coach in the fall. Since the Huskies won the national championship in early April, Calhoun has made appearances at the New York Stock Exchange and Fenway Park, been honored at the White House, and shown up in Florida for the annual Big East conference meetings (and that's barely the tip of the Calhoun traveling iceberg).

While in Ponte Vedra Beach, Florida last week, Calhoun talked to reporters about the idea of Big East expansion. Specifically the notion that league will split into basketball and football entities in the near future (TCU will join the Big East in basketball in 2011-12).

"My own personal opinion, and I won't probably see this, in the next couple of years, four or five years down the road, I think you'll see a separation. I think it's inevitable," Calhoun said, according to TampaBay.com. "If you go to 18, oh, boy. We're talking about going to 17, creates enough different issues. I think if you had 10 of us (in football), they would pick up Xavier, Dayton. Now they're right at 10 and they've got a great league. That's what I think could happen. I think it's a great draw."

Expansion is a constant topic of conversation for just about every conference because -- you guessed it -- it's lucrative. So inertia suggests it's not a question of if but when.

More interesting, perhaps, is that while Calhoun hasn't yet announced his plans for 2011-12 (although he seems to be leaning towards coaching), he did admit that he won't be coaching in four or five years.

And if you were wondering about the schools Calhoun thinks would best fit the Big East expansion mold, here you go:

"Here is what I think is going to happen," Calhoun said. "This is nothing more than conjecture. I like sexy names. So what names? Central Florida would be good, but it's not a sexy name right now. Yes, it has I think the largest population enrollment of any school in all of Florida. I don't think if I was South Florida I would care about that, having them come in, so close by. I've always liked the name Memphis as a name. And it's an in-and-out city, so it has some advantages. Villanova, certainly if they can upgrade their football they've got a very good coach. Temple never made it in Philly. That's the only thing that scares me. Only thing that scares me. It's still pretty close to a pro town except for basketball. It's the Big Five and pro sports. I don't know."

The Hartford Courant's Huskies football reporter, Desmond Connor, spoke about the possibility of a conference split during an online chat with fans last week.

"Not sure when [a split will take place] but there should be no doubt about it happening," Connor wrote. "The league can't get a fat TV contract like the other conferences and football is the blame for the most part so better the product. To do that you have to split without any more stress on the basketball side, 17 teams is already too many, 16 too. … I don't know when they [plan to] do it but it should be soon - you've got to pull the football-playing schools apart from the basketball-onlys and I think, add to get to 10 or 12 so you can have a title game."